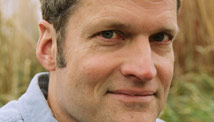 Editor's Note: Stephen Prothero, a Boston University religion scholar and author of "God is Not One: The Eight Rival Religions that Run the World," is a regular CNN Belief Blog contributor.
By Stephen Prothero, Special to CNN
(CNN)–In 1966, John Lennon famously claimed that The Beatles were "more popular than Jesus." Today that title may belong to Tim Tebow, the Denver Broncos quarterback more famous for praising Jesus than for throwing touchdowns.
As anyone who has visited Dallas or Atlanta on any recent weekend can attest, America's two great religions are Christianity and football. In recent weeks, these two great faiths have come together in Tim Tebow, the new starting quarterback for the Denver Broncos and America's latest merger of faith in Jesus and faith in the Almighty Touchdown.
When viewed from the perspective of "the world," Tebow is, at best, a mediocre NFL quarterback. When viewed through the eyes of faith, however, he is something like the Second Coming of Joe Montana. And maybe Something More.