By Todd Leopold, CNN
(CNN) -– Its name translates from Hebrew as "abode of peace," but for more than 3,000 years, Jerusalem has been anything but peaceful.
Ancient civilizations conquered it. The Romans left it a slaughterhouse. Muslims, the Crusaders, the Ottomans, the Israelis and the Palestinians all have left their mark, often in blood.
And that's not even to bring up the religious disputes, the clashing neighbors, the fanatical pilgrims and the earthquakes. (Yes, earthquakes.)
Yet Jerusalem maintains its status as perhaps the most important and holy city in the world. It is here that the three great monotheistic religions lay their claims, that countless cultures have built centuries-old shrines, and where arguably the world's biggest geopolitical conflict, between Israelis and Palestinians, plays out every day.
British historian Simon Sebag Montefiore, author of the new book "Jerusalem: The Biography," knows the city well. His great-great uncle, financier Moses Montefiore, was a major philanthropist who founded one of the city's first "new" neighborhoods in the 1860s.
Montefiore spent three years on the biography, which chronicles the city's evolution over more than four millennia, from a Canaanite development to the modern city splintered between Israelis and Palestinians.
Montefiore spoke to CNN from his home in London. The following is an edited version of the interview.
Why Jerusalem? Why this place, which is not a port and didn't seem to have much strategic value – how did it become a world capital?
It's both tradition and evolution and also the decisions of a series of powerful men, who for their own reasons made the decision to intensify Jerusalem's importance. Some of them did it by destruction, [such as] Nebuchadnezzar and Titus. Other people did it by building – Herod the Great, or Suleiman the Magnificent. And others did it by political decisions, such as Lloyd George and the Balfour Declaration promoting Zionism. So all for different reasons, different times, and often for political reasons.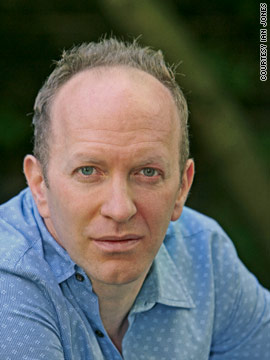 How did you know what sources to trust, including religious texts such as the Bible?
One has to look at every source. So in that sense it's not that different reading the Bible [than other documents]. I treat it as a historical source, and you have to make judgments about whether it's sound or not.
But in Jerusalem everything is more fraught and there's more sorts of disagreements and more vicious hatred about every one of these arguments than anywhere else.
Did you find yourself challenged on your details of historical events by religious leaders?
I've been challenged by everybody. Every sect, every group tried to intimidate me into doing it their way, and it's something you have to be very cautious about. But I wanted to make sure I included every sort of sect. It was a very hard book to write.
I had it read by both the [Palestinian] Fatah organization and the Israeli government, and both of them gave me a list of corrections that they wanted changed, and gave me guidance about what they thought was right and wrong. And both of them gave me absolutely the opposing corrections. If I'd really wanted to negotiate this book, it would have been as complicated as negotiating the Oslo accords.
Is Jerusalem now a political city, with the religious stuff tourist bait?
I think the Christian stuff is tourist bait, but [with] the Muslim and Jewish stuff, the religion and politics are completely interlocked. It's impossible to separate them.
There have been other great cities that have vanished or turned into shadows of what they once were. Why did Jerusalem succeed where they failed?
It's part of the alchemy of power, the combination of so many different things. It's the geopolitical, geostrategic position of the Middle East, partly. Every conqueror has had to march through it. That's a circumstance that has nothing to do with religion at all, but imperial and continental geopolitics.
But one thing over many centuries has made return to Jerusalem much more likely, and that's the ascendancy of the Bible, which is really Jerusalem's story in many ways. Anyone who believes it's fundamentally God's word will naturally return to Jerusalem, and that's happened many times throughout history, and that more than anything has made Jerusalem the center of the world.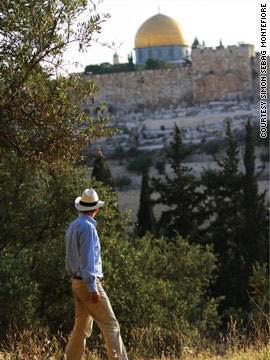 Jesus' story is as much political as it is religious. What was it that made him special among all the prophets of the time?
What was special in part among the early Christians – and not just Jesus, but St. Paul, as well – was that they were two extraordinary men. Another thing was that the Gospels were written down, so the Jewish-Christian sect … [had] a far longer life than many of these short-lived prophets who rose up and were destroyed.
And the other part of it was timing. The fact that the early Christians survived 40 years after Jesus' death and were already considering St. Paul's work appealing not just to Jews but to gentiles, and the fact they were doing that when the Jews were defeated and Jerusalem was destroyed meant that they separated from the Jewish religion abruptly, and meant that the religion had a life outside Judaism.
Those are the decisive reasons a historian would name. Obviously a Christian believer would simply believe that Jesus spoke the truth and he was the real thing.
You talk about Jerusalem Syndrome, the mental delusion triggered by the city. Is it possible prophets were affected, as well?
It all depends on your definition of holiness and madness, doesn't it? There are a lot of holy people that secular people think are mad, and religious people think are observant. This is one of those judgments I tried to avoid making in the book, for obvious reasons. And people tend to think that their own religion is kind of sensible and rational, and think that everybody else's is totally nuts.
What are your impressions of Jerusalem after having chronicled its history? Did your opinion of the city as a city change?
It did in a way. The more time you spend there the more you realize what an angry place it is. It's angry, it's dirty, it's chaotic, it's bigoted, it's fanatical – as well as being the most holy, most beautiful, most exquisite, most fascinating, most complex city in the world. Again and again you return to the fact of how extraordinary and beautiful it is, as well as how bigoted and tense it is. It becomes more contradictory the more you know it.
It's becoming even more religious. For a start, the Muslims of Jerusalem are becoming even more observant than they ever used to be. And at the same time, the Jews are becoming much more Orthodox, too. Nationalism is still very powerful, but religion has become even more so.
Are you optimistic about the future of the city?
Not in the short term. I just hope the quality of leadership on both sides improves. I hope that somehow some leaders come to the fore that are more far-seeing. In Israel it's not helped by the political system which is becoming disastrous, and on the Palestinian side it's not helped by corruption, division and extremism – which are also very present on the Israeli side.
The peace deal is already kind of known. It's just a question of accepting it, and both sides have to have the will. There has to be the right moment and there has to be the right leadership. That's a lot of conditions, isn't it?