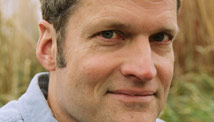 Editor's Note: Stephen Prothero, a Boston University religion scholar and author of "God is Not One: The Eight Rival Religions that Run the World," is a regular CNN Belief Blog contributor.
By Stephen Prothero, Special to CNN
I must confess that until this weekend I was an agnostic when it came to Tim Tebow. I wasn't a believer or a non-believer. As America's cultural warriors debated the virtues and vices of the Denver Broncos' miracle-working quarterback, I played the role of the disinterested academic.
I enjoyed listening to skeptics scoff at evangelicals for actually believing a guy who couldn't throw could lead his football team to the NFL playoffs. I enjoyed listening to evangelicals scoff at the skeptics for dismissing not only the miracles of Tebow but also the miracles of his Lord and Savior Jesus Christ.
In an earlier post I asked, "Is Tim Tebow performing miracles?" But I didn't answer the question.
Today I must confess, however, that the Broncos' 13-10 come-from-behind victory over the Chicago Bears on Sunday has made a believer out of me.
Yes, I doubted when the Bears were ahead 10-0 in the fourth quarter and Tebow had completed fewer than a handful of passes. But doubt, as they say, is part of faith. And I am now a true believer.
I don't just believe that Tebow is a bona fide NFL quarterback, however. Of course I believe that he can lead his offense on scoring drives with the clock ticking down in the fourth quarter. I have seen him do that with my own eyes. But Tom Brady of the Patriots can do that.
What is truly miraculous about Tim Tebow is his ability to affect a game even when he is sitting on the bench. The Broncos defense? Tebow's got it covered. The Bears' offense? Tebow can force a three-and-out.
Why did the Bears' running back Marion Barber run out of bounds when his team had almost run out the clock on Sunday? Tebow!
Why did Barber fumble in overtime just as the Bears were driving for a score? Tebow!
Why did the Broncos' kicker Matt Prater make a 59-yard field goal to send the game into overtime and a 51-yarder to win it? Tebow and again I say Tebow!
In short, I agree these words from the Denver Post: "there is no antidote, no potion for Tebow Magic."
Only it's not magic. It's faith. And now I've got it too.
With every faith comes hard questions, however. So here is the theological conundrum for my fellow parishioners in the Church of Tim Tebow. If Tebow is the "Mile High Messiah" why don't his miracles work in the first three quarters? Why did he have a dismal 9.5 passer rating in the first half on Sunday? Why did it look like Denver receiver Demaryius Thomas was being paid to drop his passes until it came to Tebow Time?
To which I can only exhale and say, "Oh ye of little faith!"
To those of us who truly believe, the answers to these questions are obvious: Because a little doubt never hurt anyone. Because there is nothing miraculous about the Packers' running roughshod over the Raiders 46-16. Because this is religion we are talking about people, not football.
The Church of Tim Tebow isn't just about winning. It is about snatching faith from the jaws of victory. It is about sitting back at the end of the game, as I did this Sunday, and thinking, "Did that really happen?" only to realize it really did.
"If you believe," Tebow said after the game, "then unbelievable things can sometimes be possible." To which I can only say, "Amen."
The opinions expressed in this commentary are solely those of Stephen Prothero.