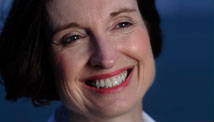 Editor's note: Laura Sessions Stepp is a Pulitzer Prize-winning journalist, formerly with The Washington Post, who specializes in the coverage of young people.
By Laura Sessions Stepp, Special to CNN
(CNN) - Republican conservatives should be worried. Evangelical churches that frequently support conservative candidates are finally admitting something the rest of us have known for some time: Their young adult members are abandoning church in significant numbers and taking their voting power with them.
David Kinnaman, the 38-year-old president of the Barna Group, an evangelical research firm, is the latest to sound the alarm. In his new book, "You Lost Me: Why Young Christians Are Leaving Church and Rethinking Faith," he says that 18- to 29-year-olds have fallen down a "black hole" of church attendance. There is a 43% drop in Christian church attendance between the teen and early adult years, he says.
Read the full story here.