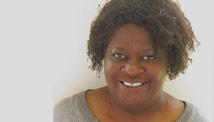 Editor's Note: Tangela Ekhoff is an inspirational speaker, comedy performer and ordained elder in the Presbyterian Church, U.S.A. She blogs about marriage, motherhood and life in Oklahoma at Homegirl on the Range.
By Tangela Ekhoff, Special to CNN
(CNN) - For my husband and me, the crown jewel of success as parents is the shrieks and wanton joy that come when our children open presents on Christmas morning. It's enough to breach the dams in my eyes. Every year, my husband (the better shopper) picks one big-ticket gift for our boys, the one we call "the Showstopper!"
The Showstopper is the present that is either No. 1 on their wish list or the one they didn't even know they wanted, until they make confetti of the shiny paper that conceals the happiness wrapped inside. The Showstopper is THE gift. It's so awe-inspiring that it causes an intermission to present-opening and signals the point when the boys forsake all other gifts to play with the Showstopper. Last year, it was Chuck the Talking Dump Truck.
This year, there will be no Showstopper.
I wish I could say we are avoiding the Showstopper out of solidarity for Americans who are too poor to afford Christmas. I wish we were that socially conscious. This year, the Showstopper will not be part of the Ekhoff family Christmas, because this year, we are the poor.
We moved from Montgomery, Alabama, to my husband's childhood home of Owasso, Oklahoma, with high hopes and great expectations for opportunity. It is not going as well as we hoped. We have applied for several hundred jobs between us. I was rejected for a job at a chicken restaurant. I am from Alabama. I was born with a frying pan in one hand and a hunk of lard in the other. I'm still mad about not getting that job.
In a former life, my husband was a computer technician. In this life, he slings pizza, rakes leaves, shovels snow, cuts grass and bakes cakes, but it still is not enough money to pay for basics, let alone any utility bills. I use both of my worthless college degrees as microfiber cloths to fight grime as a house cleaner, and out here in Oklahoma, people are not as willing to pay for this service as they are in the South. I speak publicly and perform comedy, but gigs are harder to come by than we originally anticipated.
We thought the move to Oklahoma would turn it all around and send us sashaying back into our middle-class life. Instead, it has given us the final shove into the abyss of poverty. For us, 2011 has been the Worst. Year. Ever.
This is also the first year in the history of our family that we will not buy gifts for some unknown poor child as part of an Angel Tree project. Every year, we would buy hats, socks, mittens, jackets and/or toys for some poor child.
This year, at some church or business in our town, there are two construction paper Christmas stockings hanging on an Angel Tree with our sons' wish list printed on them. This year, our sons are "those poor kids." This year, if there is a Showstopper, it will not be purchased by us but by a generous, anonymous individual or family with the means to help us, the underprivileged family.
On the Christian calendar, the season leading up to Christmas is known as Advent. During Advent, Christians pray and light candles to remind us to wait expectantly and prepare for the miracle of the birth of Jesus Christ. This year, Advent is more meaningful to me than ever. This year, our family has lost so much, and I continually pray for a miracle. As our family awaits the celebration of the birth of Jesus, we anticipate and long for a better world not just for us but for others who suffer in the "new" economic reality: poverty.
My greatest hope, as we await the birth of Jesus, is that God restores our family financially. Yes, it's selfish. I am grateful the Angel Tree project is available to provide my children and hundreds of children in my town with presents this Christmas. But, selfishly, I pray that next year there will be no Angel Tree. My husband and I are both intelligent and hard-working. We want nothing more than to provide for our children.
As we struggle with the new normal, we pray (yes, selfishly) that during this Advent, as we wait for Jesus' light to shine upon the world, that a sliver of that miraculous light will shine on our little family. Like a child anticipating the rapturous joy of opening presents on Christmas morning, I hold on to my faith and anticipate a rebirth, a renewal, a restoration for our family.
I expect a miracle. And in this season of Advent, miracles happen every single day.
The opinions expressed in this commentary are solely those of Tangela Ekhoff.