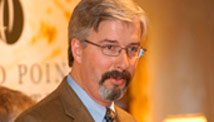 Editor's note: Larry Alex Taunton is the founder and executive director of the Fixed Point Foundation. This article is adapted from his book "The Grace Effect: How the Power of One Life Can Reverse the Corruption of Unbelief."
By Larry Alex Taunton, Special to CNN
(CNN) - My favorite Christmas movie is, unquestionably, Frank Capra's 1946 feel-good flick "It's a Wonderful Life." Jimmy Stewart and Donna Reed play George and Mary Bailey, a happy couple living a life of genteel poverty in the small American town of Bedford Falls.
George is a kind and generous man. He is active in his community and in the war effort. Most importantly, George is all that stands between the town's mean old man, Mr. Potter, and the demise of all that is good in Bedford Falls.
As financial pressures crowd in on poor George, he begins to question his value to the community. So much so, that he wishes he had never been born. To demonstrate to George the folly of his wish, an angel is sent to give him a glimpse of what Bedford Falls would look like if that wish were granted. In Dickensian fashion, the angel takes him from one scene in that small town to another. The difference is stark. Indeed, Bedford Falls isn't even Bedford Falls anymore, but a place called Pottersville. The town's main street is a red-light district, crime is rampant, and life there is coarsened.
When George, in desperation, turns to the angel, seeking an explanation for these drastic changes, the angel says, "Why, George, it's because you were never born!"
According to a recent poll conducted by The Hill, 69% of voters think America is in decline, and 83% say they are worried about the country's future. And that has generated a lot of finger-pointing: Republicans blame President Obama; Obama blames Republicans; environmentalists blame industrialization; the "Occupy" people blame everybody who isn't occupying something - most of us agree that there is a problem, but efforts to identify the source of it are incomplete, misguided or downright evil.
CNN's Belief Blog – all the faith angles to the day's top stories
The problems of human society are the problems of human nature, wrote "Lord of the Flies" author William Golding. Indeed. This was the discovery of the monastics. Seeking to escape the evil of the world, they found instead a doctrine central to Christianity: that evil is innate to us all. History tells us that a given philosophy, creed or religion will either restrain our darker impulses or exacerbate them, but escape them we cannot. Not in this life, anyway.
So what will save us from ourselves and preserve human dignity and life in the societies we create? Democracy? Socialism? Stitching up the ozone?
These days, there is a lot of talk about religion - Christianity in particular - and its role in public life. Whether it is protesting Nativities, the debate over "In God We Trust" as our country's motto or the controversy surrounding the public faith of Tim Tebow, a national discussion is taking place on what the present and future role of Christianity in America should be. The consensus among the secular elites seems to be that it is a bit like smoking: It is harmful, but if you must do it, do it in the designated areas only. Richard Dawkins, the Oxford scientist and atheist provocateur, calls Christianity a "mental virus" that should be eradicated.
The professor should be more careful in what he wishes for. Like many others, he grossly underestimates the degree to which his own moral and intellectual sensibilities have been informed by the Judeo-Christian worldview.
"It's a Wonderful Life" is a fitting metaphor for a nation absent Christian belief. Jesus Christ said that his followers were to be like "salt"; that is, a people whose presence is felt for the good that they do. As a man or woman's evil nature is gentled and restrained by the grace of God, there is a corresponding outward transformation of society. The data bears this out. According to the research of The Barna Group, Christians are the most charitable segment of the population by a substantial margin. Hence, any society that is liberally sprinkled with them has a greater concern for the poor, sick, orphaned and widowed - "the least of these," as Jesus called them. (This is precisely what Nietzsche, and Hitler after him, hated about Christianity.)
But Christian influence goes well beyond benevolence: Our laws, art, literature and institutions find meaning in a rich Christian heritage. In his new book "Civilization: The West and the Rest," Harvard historian Niall Ferguson argues that the decline of the West can, in part, be attributed to the decline of a robust Christian presence in Western culture. Ferguson's point is largely an economic one, but the inference that Christianity has served to strengthen the fabric of life in the West as we have known it is unmistakable. T.S. Eliot made a similar observation: "If Christianity goes, the whole of our culture goes."
That is just another way of saying that the difference between a nation with meaningful Christian influence and a nation without it is the difference between Bedford Falls and Pottersville.
The opinions expressed in this commentary are solely those of Larry Alex Taunton.