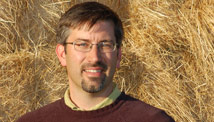 Editor's note: The Rev. Dr. Craig Goodwin is the author of  "Year of Plenty: One Suburban Family, Four Rules, and 365 Days of Homegrown Adventure in Pursuit of Christian Living."  His family is dedicating a year to explore the role of food in Christian spiritual formation by eating their way through different food traditions, one month at a time. He is writing about their experiences at www.tablesofplenty.com.
By The Rev. Dr. Craig Goodwin, Special to CNN

(CNN) - Advent is a season of feasting for most American Christians. It unofficially begins on Thanksgiving with gut-busting portions of turkey and potatoes and carries on all the way through to Christmas with a dietary gauntlet of party trays, cookies and candy canes.
Our family is trying a different approach to Advent this year by following what Orthodox Christians call the Nativity Fast in which participants refrain from dairy, eggs, oil, wine and meat. Fish, wine and oil are allowed on certain designated days. As my 9-year-old daughter explained to her friends over school lunch, "We're going vegan this Christmas."
In this season where most of us fret about undisciplined eating and gaining weight, it's refreshing to discover a community that is eating to the ring of a different dinner bell. What's even more interesting to me is that not only do Orthodox Christians fast for 40 days leading up to Christmas, they fast for more than half the year.
My newly acquired Orthodox calendar of the church year mingles the listing of each day's Scripture readings with symbols of fish, bunches of grapes, blocks of cheese and crosses that guide the faithful in what can be eaten on any given day.
CNN's Belief Blog – all the faith angles to the day's top stories
Food is central to the spiritual practices of Orthodox Christians, which is quite a contrast with my experience as an American Protestant with a calendar of the church year devoid of any guidance regarding what foods to eat and when. It's a given that we will eat Jell-O salad and casseroles at our potlucks, but I have yet to hear anyone extol the spiritual virtues of these dishes.
This absence of food practices among many American Christians is especially remarkable given the current proliferation of food rules in the popular culture.
When our family spent a year eating only local food in 2008 we discovered passionate communities of locavores, vegans, slow food connoisseurs, sustainable agriculture activists and others who all emphasize the powerful role of food choices in the formation of a person. While most of these movements are considered "secular," they often have a sacred feel to them.
For example Michael Pollan, the John the Baptist of foodies across the land, describes a meal with friends at the conclusion of "The Ominvore's Dilemma" as a "secular seder." He writes, "(E)very item on our plates pointed somewhere else, almost sacramentally, telling a little story about nature or community or even the sacred, for mystery was often the theme. Such storied food can feed us both body and soul. ..."
Many who have given up on traditional religion, but still hunger for a spiritual connection, have embraced farms as holy ground and dinner tables laden with artisan cheese and locally grown kale as places of communion.
Alexander Schmemann, a prominent Eastern Orthodox theologian, writes about this sacred-secular phenomenon in his book "For the Life of the World":
"Centuries of secularism have failed to transform eating into something strictly utilitarian. Food is still treated with reverence. To eat is still something more than to maintain bodily functions. People may not understand what that 'something more' is, but they nonetheless desire to celebrate it. They are still hungry and thirsty for sacramental life."
Unfortunately, what secularism had been unable to accomplish in 1973 when Schmemann wrote those words, industrial food practices are well on their way to achieving today. It is this move toward industrialization that has spurred Pollan and others to defend eating as "something more," but the American church has largely been silent on these issues and there are some indications that its members are suffering for it.
According to a recent study by Northwestern University,  "young adults who frequently attend religious activities are 50% more likely to become obese by middle age than are young adults with no religious involvement."
The authors of the Northwestern study can't explain the correlation of obesity and religious faith, but it at least serves as a signal that food needs to be on the agenda of the American church. And as our family has discovered during the Nativity fast, there are historic resources with deep roots in the gospel of Jesus that can help guide the conversation.
At minimum, it's time for American Christians to recognize what many of their nonreligious friends have discovered - that food practices are important for the journey of spiritual formation. They are a meaningful way to connect with the mystery that underlies all of creation.
Better yet, maybe it's time for an Orthodox moment in American Christianity where Protestants and evangelicals rediscover the generative role of fasting and feasting on the journey of following Jesus. We'll all be better off for it, both body and soul.
The opinions expressed in this commentary are solely those of The Rev. Dr. Craig Goodwin.