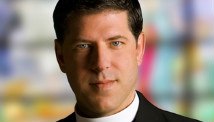 Editor's note: Albert Cutié is an Episcopal cleric and former Roman Catholic priest known as Padre Alberto or "Father Oprah." He is the author of the memoir, "Dilemma: A Priest's Struggle with Faith and Love" and hosted the talk show "Father Albert." He's on Twitter @padrealberto.
By Fr. Albert Cutié, Special to CNN
(CNN) – I remember one of the stories shared about an old, revered Cuban pastor in the most popular Roman Catholic parish in Little Havana, near downtown Miami. He was often recognized as an outstanding local hero in the first stop for thousands of Cuban refugees, an area that is now home to thousands of Central American immigrants who also seek a better life in the United States.
One afternoon in the old dark church, 100 or so 7- to 12-year olds from the religious instruction classes known as "catecismo" were preparing to make their Lenten confession. The priest went through a list of the commandments and asked the children to think of any sins they may have committed so they could mention them once they sat face to face with a priest.
Read the full story here from CNN's In America Blog.