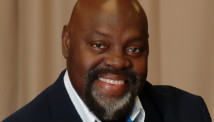 Editor's Note: Reverend Kenneth Hutcherson is the senior pastor and founder of Antioch Bible Church in Kirkland, Washington. He is also an author of four books, and a former middle linebacker in the National Football League. Hutcherson is a leading voice in the fight to uphold marriage between one man and one woman in Washington state. He blogs at hutchpost.org.
For an opposing view, click here.
On Wednesday afternoon, Washington's House passed a same-sex marriage bill, 53-43. The state Senate has already passed it, and Gov. Chris Gregoire has promised to sign it. Opponents of  the bill are promising to put the issue on the ballot this November.
By Rev. Kenneth Hutcherson, Special to CNN
(CNN) – Why do I stand so strong in support of traditional marriage? Because I am a pastor of the Gospel of Jesus Christ. I am a shepherd that is supposed to lead, feed and protect the flock. Anything the bible says is good for society, I stand on it and I will not compromise on it. What the bible says is good for society has always proven to be good. Anything the bible says is wrong for society has always proven to be wrong.  There have never been any winners in a scenario where society went against what God said would be good.
Read the full Opinion piece on CNN's In America