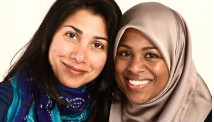 Editor's note:  Ayesha Mattu, an international development consultant, and Nura Maznavi, an attorney, are the co-editors of "Love, InshAllah: The Secret Love Lives of American Muslim Women."
By Ayesha Mattu and Nura Maznavi, Special to CNN
A lot has been written about Muslim women, but very little of it has been written by Muslim women ourselves.
The sensational stories — child brides, forced marriages, honor killings — always get the headlines, but nowhere do we see the stories of the independent, opinionated and hilarious Muslim women we know.
We decided to change that.
Starting five years ago, we asked fellow American Muslim women to share their stories of searching for love. We chose the topic because love is a deeply intimate yet universal emotion — and one not usually associated with Muslims.