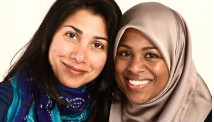 Editor's note:  Ayesha Mattu, an international development consultant, and Nura Maznavi, an attorney, are the co-editors of "Love, InshAllah: The Secret Love Lives of American Muslim Women."
By Ayesha Mattu and Nura Maznavi, Special to CNN
A lot has been written about Muslim women, but very little of it has been written by Muslim women ourselves.
The sensational stories — child brides, forced marriages, honor killings — always get the headlines, but nowhere do we see the stories of the independent, opinionated and hilarious Muslim women we know.
We decided to change that.
Starting five years ago, we asked fellow American Muslim women to share their stories of searching for love. We chose the topic because love is a deeply intimate yet universal emotion — and one not usually associated with Muslims.
We received 200 submissions in response to our call for stories, which we broadcast via social media and email.
Twenty five of the best submissions form our new book, "Love InshAllah," which means "God willing" in Arabic and expresses the idea that it's only through the will of God that we attain what we seek in life.
Taken together, the stories offer a portrait of the millions of Muslims in America, which represents the most diverse Muslim community on the planet. It includes families whose roots go back to the founding of our nation and immigrants from every country imaginable.
While compiling the book, we ran head-on into lots of myths about the love lives of American Muslim women. Here are the top 5:
1. Muslim women marry men their parents choose for them.
While some women do meet their husbands through their parents, Islam gives women the final say over whether or not to marry that person. Family plays a strong role in the lives of many American Muslim women, but the majority who submitted contributions to our book did not meet their partners through family recommendations.
The women of "Love InshAllah" fall in love at college and work, online and through mutual friends. One writer, Angela Collins Telles, met a handsome and mysterious stranger while traveling in Argentina, had a whirlwind romance, got married and now lives in Brazil with her husband their two sons. Not exactly an arranged marriage.
2. All arranged marriages are loveless.
For many of us, the idea of marrying someone you are not in love with is shocking. It brings to mind images of a couple bound together for life by duty, not love. Aisha Saeed writes about meeting a young man on the recommendation of her mother and, within six weeks, deciding to marry him.
If that seems foreign, consider that she bases her decision on their mutual chemistry after discussing shared values, passions and goals. They're the same factors most of us consider when choosing a lifelong partner, albeit usually over longer periods of dating.
Though Saeed may not have been "in love" with him in the conventional sense on their wedding day, a decade of married life later they are madly in love with each other, with a love that continues to grow deeper over time.
Saeed chose her partner on the lasting qualities of mutual respect and kindness and they have built a beautiful life together.
3. Muslim women who wear the hijab are repressed or asexual.
Throughout history, the lives and bodies of Muslim women have been politicized.
We are either hypersexualized — think belly dancers and harems — or thought to be desexualized, as though wearing a scarf on our heads extinguishes all feelings of love or desire, and our very agency over our lives.
In "Love, InshAllah," writers who wear hijab challenge that notion. Whether they are recently divorced and miss the sexual intimacy of a relationship, single and tempted by their hot personal trainers, or discovering the joys of a new relationship through the sweetness of holding hands for the very first time, Muslim women who cover share the love and longing of all women.
4. There is no such thing as a gay Muslim.
Actually, there is. Not only are there gay Muslims, some of them are deeply orthodox, with faith playing a central role in their lives. Two of our writers relate very different experiences of being gay Muslims — one from a secular background, the other from an orthodox perspective.
The surprises don't end there. The more secular writer comes out to her strict Muslim parents and is accepted, while the more orthodox woman has not yet come out to her non-Muslim family. In the end, a parent's reaction has less to do with his or her family's religious affiliation and more to do with individual family cultures, communication and dynamics.
5. Muslim women are unable to escape unhappy marriages.
Muslim women have had the right to divorce for the past 1,400 years. That is not to say it has always been easy, or that cultural or legal impediments have not existed. The same barriers that prevent many of us from moving on from a bad relationship – fear of being alone, children, or economic issues – come into play for Muslim women, too.
But many of the writers in "Love InshAllah" write openly about unhappy marriages and eventually leave them behind. They find love on the second — or even third — time around.
The opinions expressed in this commentary are solely those of Ayesha Mattu and Nura Maznavi.