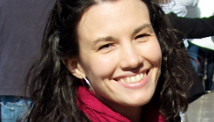 Editor's Note: Valerie Pokorny is actively involved in marriage preparation programs, natural family planning instruction and chastity education in the Archdiocese of San Antonio, Texas.
By Valerie Pokorny, Special to CNN
(CNN) – In the face of the Health and Human Services mandate to provide contraception coverage, I stand with my fellow Catholics hoping our religious freedom will be respected.
But more importantly, I stand as a woman hoping who I am will be respected.
Four times a year, I walk into a room of Catholic moms and their middle school or high school daughters to help them see why being a woman matters, as part of the Archdiocese of San Antonio's Mother-Daughter Programs on the Gift of Femininity.
Read the full story here from CNN's In America Blog.