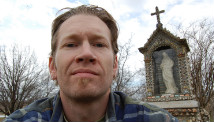 Editor's Note: J. Wilson is an award-winning homebrewer and author of "Diary of a Part-Time Monk."
By J. Wilson, Special to CNN
About this time last year, I set off down a path that hadn't been traveled for centuries. I fasted on beer and water for the duration of Lent.
While that sounds like a frat boy stunt, my "Diary of a Part-Time Monk" project was actually rooted in the Catholic Church, though that's not what brought me to the idea.
A homebrewer and certified beer judge who is passionate about the flavors and culture of craft beer, I am what they call a "beer geek," and so the monastic origins of the doppelbock style of beer had long intrigued me.
According to legend, the 17th century monks of Neudeck ob der Au outside Munich, Germany, developed the rich-and-malty beer to sustain them during Lenten fasts, the traditional 46-day lead-up to Easter.
Unfiltered, the bold elixir was nicknamed "liquid bread" and is packed with carbohydrates, calories and vitamins.
With poor documentation available on the specifics of their fasts, I decided that the only way to know if the story was true would be to test the beer myself. I joined forces with Eric Sorensen, the head brewer at Rock Bottom Restaurant and Brewery in West Des Moines, Iowa, to brew a commercial release of one of my recipes, Illuminator Doppelbock.
Explain it to me: What's Lent?
I would survive on that beer, supplemented only by water, for 46 days of historical research.
With the blessing of my boss at The Adams County Free Press in Southwest Iowa, I consumed four beers a day during the workweek and five beers on the weekends, when I had fewer obligations.
I knew that I could stretch four beers over the course of a day and function well, but I hadn't planned for the media attention that the investigation spurred. I found myself giving more than five interviews a day to the likes of CNN, BBC, Fox News, the Chicago Tribune, The Catholic Herald and Men's Health magazine, among others.
CNN's Belief Blog: The faith angles behind the biggest stories
My noncloistered style of living as a part-time monk was interrupted by print, radio and television interviews, preventing the introspection I had planned. After a couple of weeks, I found myself needing to fast from the media, my phone, e-mail as well as from food.
In addition to learning that A) other folks found the story as captivating as I did, and B) one actually can live on beer and water for 46 days, I made some profound discoveries on my journey.
One is that the human body is an amazing machine. Aside from cramming it full of junk food, we don't ask much of it. We take it for granted. It is capable of much more than many of us give it credit for. It can climb mountains, run marathons and, yes, it can function without food for long periods of time.
Follow the CNN Belief Blog on Twitter
At the beginning of my fast, I felt hunger for the first two days. My body then switched gears, replaced hunger with focus, and I found myself operating in a tunnel of clarity unlike anything I'd ever experienced.
While hunger subsided quickly, my sense of smell provided persistent temptation for more than a week. But the willpower to carry out my objective brought peace to the "Oh man that cheeseburger smells good" thoughts. Soon, I could see, smell or discuss anything food-related without trouble.
Often, I cooked dinner for my boys, a task that became as simple and trouble-free as tying my shoes.
My fast also underscored for me that there is a difference between wants and needs. I wanted a cheeseburger, but I didn't need one. I also didn't need a bag of chips or a midday doughnut. I needed nourishment, and my doppelbock, while lacking the protein that might have provided enough backbone for an even longer fast had I sought one, was enough to keep me strong and alert, despite my caloric deficit.
Though I lost 25.5 pounds, I gained so much more. The benefits of self-discipline can't be overstated in today's world of instant gratification. The fast provided a long-overdue tune-up and detox, and I've never felt so rejuvenated, physically or mentally.
The experience proved that the origin story of monks fasting on doppelbock was not only possible, but probable. It left me with the realization that the monks must have been keenly aware of their own humanity and imperfections. In order to refocus on God, they engaged this annual practice not only to endure sacrifice, but to stress and rediscover their own shortcomings in an effort to continually refine themselves.
Though they lived out their faith at a higher degree of daily devotion than the average person, they could sense their loss of focus. Taking nothing for granted, they took steps to rectify that problem on an annual basis. Shouldn't we all, whether or not our religious tradition includes Lent?
The opinions expressed in this commentary are solely those of J. Wilson.