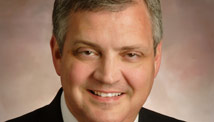 Editor's Note: R. Albert Mohler Jr. is president of the Southern Baptist Theological Seminary, the flagship school of the Southern Baptist Convention and one of the largest seminaries in the world.
By R. Albert Mohler Jr., Special to CNN
Even Rick Santorum's most ardent detractors have to concede this much - the former senator speaks his mind. Recently, Santorum has been speaking his mind on questions of church and state, and the political left has responded with disbelief and horror.
Over the weekend, Santorum told ABC's "This Week" that reading the text of John F. Kennedy's 1960 speech to the Greater Houston Ministerial Association made him physically sick: "I almost threw up."
As it turns out, Santorum had made similar statements about Kennedy's speech before. But, as Santorum quickly learned, he had dared to criticize a speech, and an argument, that the left has long considered the equivalent of settled law.
Kennedy addressed the Houston Baptist pastors at a crucial point in his campaign for the presidency. He was facing claims that a Catholic president would be unduly influenced by the Vatican and Catholic authorities, and Kennedy sought to calm those fears. In one sense, the speech was something of a political necessity. In an even greater sense, it established what amounts to a political orthodoxy on the political left.
Explaining what made him almost throw up, Santorum pointed to a statement Kennedy made early in the speech: "I believe in an America where separation of church and state is absolute."
Santorum retorted, "I don't believe in an America where the separation of church and state is absolute. The idea that the church can have no influence or no involvement in the operation of the state is absolutely antithetical to the objectives and vision of our country."
Santorum should have avoided gastrointestinal references in his comments, and he clearly missed some of the careful nuances of Kennedy's speech, but his criticism of Kennedy's argument is both timely and essentially right. Furthermore, it is high time that Americans understand that the ideas Kennedy espoused in that speech have led us to an impasse in current debates.
There can be no "absolute" separation of church and state. Such an absolute separation would, in theory, prevent any conflict or controversy between religious bodies and government. As just about any edition of a major newspaper makes clear, these conflicts occur over and over again.
Much of Kennedy's speech would be noncontroversial, including his plea for an end to religious intolerance and his assertion of religious liberty. But Kennedy framed his argument with assertions that simply cannot be sustained. The central problem was Kennedy's insistence that religion is a purely private affair with no public consequences.
Kennedy argued the church he believed in should not be a matter of public concern "for that should be important only to me." Later in the speech, he said: "I believe in a president whose views on religion are his own private affair, neither imposed upon him by the nation, nor imposed by the nation upon him as a condition to holding that office."
Those two crucial assertions - Kennedy's insistence that his church "should be important only to me" and his description of a president's religion as "his own private affair" - create the problem.
The moral and political battles of the last half-century demonstrate that religious convictions cannot be merely a "private affair." The reason for this is simple: If religious beliefs mean anything, they will affect other beliefs. Human beings are composite creatures, and there is no way that authentic religious beliefs can be safely isolated from an individual's total worldview.
The potential for cultural conflict increases when religious beliefs are held strongly and when they are deeply integrated into an individual's thinking. This is why Kennedy sought to affirm that he could serve as president without his Catholicism carrying any real significance at all.
That argument worked for Kennedy in 1960 when he was running for president against anti-Catholic prejudice. It does not work when we have to engage in the hard process of establishing public policy.
Kennedy's line of argument set the stage for the hugely influential effort of intellectuals such as John Rawls, Jurgen Habermas and Robert Audi. The secular left is deeply committed to their idea that public arguments must be limited to secular reason, with religious beliefs and arguments ruled out of bounds.
This approach has also led to the secularization of vast areas of public life, marginalizing citizens with deep religious convictions. The coercive power of the state has forced the secularization of charitable work, leading to such tragedies as the closing of religious charities that refuse to secularize their ministries.
Santorum is surely right when he spoke of these things as "absolutely antithetical to the objectives and vision of our country."
The very fact that, in 2012, a presidential candidate from one party can create instant headlines by arguing against a speech made by a presidential candidate of the other party, more than 50 years ago, should be enough to convince any fair-minded American that we still have much work to do as we try to reason with each other about these questions.
As we get about that task, we need to speak to one another with care, courtesy and full conviction. Massively difficult issues loom before us, but this nation is sufficiently mature so that we can have this conversation without losing our lunch.
The opinions expressed in this commentary are solely those of R. Albert Mohler Jr.