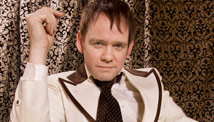 Editor's Note: David Drury is featured in the documentary "Holy Rollers: The True Story of Card Counting Christians" and is writing a book about his card-counting adventures.
By David Drury, Special to CNN
(CNN)–"Shackled by a heavy burden/'neath a load of guilt and shame/ then the hand of Jesus touched me/ and now I am no longer the same."
So begins the popular William Gaither hymn. By popular, I mean Elvis once recorded a version of it, which is what it takes for a hymn anymore.
When I stumbled into a church on the outskirts of Las Vegas one Sunday morning in 2007, I was shackled with my own heavy burden of sorts. I had $80,000 in cash hidden on my person. It was crammed into pockets, stuffed into socks and strapped beneath my clothes. The pastor was just getting his sermon fired up when I slipped into a back row with all the grace of a stiff-limbed Frankenstein.
So much for going unnoticed.