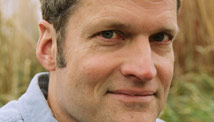 Editor's Note: Stephen Prothero, a Boston University religion scholar and author of "God is Not One: The Eight Rival Religions that Run the World," is a regular CNN Belief Blog contributor.
By Stephen Prothero, Special to CNN
We now know the name of the man accused of leaving his combat unit in Afghanistan's Kandahar Province on March 11, walking into two Afghan villages and murdering 16 innocent people, including 9 children.
The narratives we are supposed to follow here are clear, and each absolves the rest of us of any sin. Staff Sgt. Robert Bales was mentally unstable and went off the deep end. Or perhaps he was a cold-blooded killer all along. Either way, he deserves to be separated from the rest of us by life in prison, or worse.
But why is this 38-year-old husband and father of two sitting today in solitary confinement at Fort Leavenworth, Kansas?
I do not know. I suspect, however, that the answer is more complicated than the simple stories we tell ourselves in these circumstances.