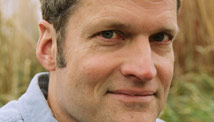 Editor's Note: Stephen Prothero, a Boston University religion scholar and author of "God is Not One: The Eight Rival Religions that Run the World," is a regular CNN Belief Blog contributor.
By Stephen Prothero, Special to CNN
We now know the name of the man accused of leaving his combat unit in Afghanistan's Kandahar Province on March 11, walking into two Afghan villages and murdering 16 innocent people, including 9 children.
The narratives we are supposed to follow here are clear, and each absolves the rest of us of any sin. Staff Sgt. Robert Bales was mentally unstable and went off the deep end. Or perhaps he was a cold-blooded killer all along. Either way, he deserves to be separated from the rest of us by life in prison, or worse.
But why is this 38-year-old husband and father of two sitting today in solitary confinement at Fort Leavenworth, Kansas?
I do not know. I suspect, however, that the answer is more complicated than the simple stories we tell ourselves in these circumstances.
It could be that he drank himself into delusion. It could be that he has a genetic predisposition to depression, or that his financial troubles or marital difficulties made him do it. But like I say I doubt it.
I doubt that when he joined the military at 27, just weeks after 9/11, he was the sort of man who might have marched down the streets in his hometown of Norwood, Ohio, and shot and stabbed 16 innocents. I don't think this accused killer was made in his mother's womb or in his nation's schools. I think he was made on the battlefield, which is to say he was made by us.
According to a Pentagon official, Bales "just snapped" as a result of "a combination of stress, alcohol and domestic issues."
But Bales's lawyer, John Henry Browne, rejects that narrative, pointing instead to the fact that one day before the killings Bales had witnessed a fellow soldier lose a leg in a mine explosion.
Bales was reportedly deployed to Iraq on three separate occasions. So he saw the hell that is war long before he arrived in Afghanistan. A Humvee he was in flipped over in 2010, leaving him with what his lawyer described as a traumatic brain injury. Bales also reportedly lost part of his foot from an explosive device.
Who put him in these circumstances? Who deployed him four times? We did. It takes a country to make a man do these things, and we were his country. We U.S. citizens voted for the presidents who sent him into combat and for the Congress that appropriated the money for our wars in Iraq and Afghanistan.
As a boy, I watched the television in horror as our nation learned the details of the My Lai Massacre that left hundreds of unarmed civilians dead in South Vietnam at the hands of U.S. Army soldiers. I was glad to see Second Lieutenant William Calley sent to jail for killing 22 villagers, and shocked that more U.S. soldiers were not punished for their crimes.
But there is no justice if the only people accused of murder in these massacres are the people we send off to war.
In a 1985 Newsweek commentary on the Vietnam Veterans Memorial, war correspondent Gloria Emerson fantasized about chaining to that memorial all the politicians responsible for that war and making them read out loud the names of all the serviceman remembered on it. "Then the war would end for me," she wrote. "Wouldn't that be something? Justice at last."
But it isn't just our presidents and secretaries of defense who are responsible for these wars. In a republic, we are all responsible for the good that comes from war and for the evils it produces. If we are sentient, we know that war produces unintended consequences. We know it kills civilians as well as soldiers, innocent children as well as responsible adults. And we know that in many cases it contorts the personalities of our loved ones beyond recognition.
So here is my fantasy about the fate of Staff Sgt. Robert Bales. If he is convicted of war crimes and sent to jail, each of the rest of us should spend a day sitting in front of our local jail. There we should confess to our respective gods "our sins, known and unknown, things done and left undone" (as the Book of Common Prayer puts it). Then we should write a letter to the wife and children of Sgt. Bales asking for their forgiveness too.
The opinions expressed in this commentary are solely those of Stephen Prothero.