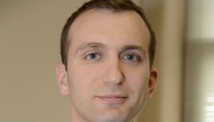 Editor's Note: Dan Birdsong is a political science lecturer at the University of Dayton, teaching courses on the presidency, campaigns and elections and media.
By Dan Birdsong, Special to CNN

(CNN) - There has been a deliberate and concerted effort on the part of the Mitt Romney campaign, even before it officially began, to divert attention from the presidential candidate's Mormonism by attempting to connect with primary voters by talking about a shared civil religion. But to be effective Romney must take this strategy much further.
What's civil religion? It's patriotism's kissing cousin. It's a kind of deeper version of nationalistic pride. It is an effort to link patriotism to morality and virtue. Think the phrase "God and country," or the solemn reverence so many Americans have for our nation's founding documents.
Romney puts himself at a disadvantage to his rivals and past presidents because he cannot, or is unwilling to, seamlessly link his faith to his patriotism.
Such a strategy would enhance what media types call his "personal narrative" and would go a long way toward forging a strong emotional connection with voters. Here's how he can do it:
1. Talk about a sacred Constitution
Consider this: For some, the Bill of Rights is seen as analogous to the Ten Commandments. And even though the Bill of Rights is a human creation - and thus imperfect - many see the Constitution as sacred, beyond reproach.
Recently in Arizona, Romney used this sentiment on the campaign trail, saying the nation's founding documents "were either inspired by God or they were written by brilliant people or perhaps a combination of both. …"
CNN's Belief Blog: The faith angles behind the biggest stories
Here we see Romney attempting to preach a version of American exceptionalism that many believe, but it comes off as soft, and fits into the troubled "Which Mitt?" brand.
A year ago, before Romney officially announced his candidacy, he said President Obama didn't "understand what it is that makes this nation so successful, so powerful, so good."
These rhetorical choices go beyond normal patriotic rhetoric and reveal Romney's belief in America as good and the Constitution as sacred. They have the flavor of civil religion, but Romney remains too vague and needs to be more declarative.
2. Present himself as America's patriarch
In the current campaign, Romney sings a song of American greatness.
After his win in New Hampshire, Romney tried to culturally connect with voters by defining his campaign as "... saving the soul of America."
Follow the CNN Belief Blog on Twitter
"We want to restore America to the founding principles that made this country great," Romney said. "This election, let's fight for the America we love. We believe in America."
Romney's words paint the election as a moral imperative and a redemptive narrative.  By giving America human qualities, Romney makes himself the patriarch who can lead America back to a redemptive path.
Yet his rhetoric rings hollow because he does not define those founding principles, nor does he share a personal anecdote to connect to voters. You preach to the choir to get them to sing, but Romney needs to preach to the unconvinced.
3. Use civil religion to compensate for his Mormonism.
The former Massachusetts governor must convince the GOP primary voters that he is enough like them to rally the suburban warriors to join his campaign, and he must quell the quiet queries about his religion.
You see, Romney is facing a political reality: people don't know much about Mormons. And as Ishmael reminds us in "Moby Dick," "Ignorance is the parent of fear."
A recent Pew study found that when asked for one-word descriptions of presidential candidates, "Mormon" was the most common answer when describing Mitt Romney.
In June, a Gallup Poll found that only 76% of Americans would vote for a Mormon. The Pew Center found that while 68% say being a Mormon wouldn't matter to their vote, 25% say they would be less likely to vote for a Mormon candidate.
While these perceptions are troubling for a country that values religious freedom, they are a political reality for the Romney campaign.
Indeed, these perceptions may help explain why Romney failed to win evangelical voters in Iowa, South Carolina, Missouri, Minnesota, or Tennessee, Mississippi and Alabama.
4. Follow the lead of previous presidents
Past presidents have spoken with civil religion rhetoric, some more directly than others.
Presidents Bill Clinton and George W. Bush were masterful in their weaving of civil religion into their rhetoric, allowing them to connect emotionally with the American public.
In comforting the nation after the Oklahoma City bombing, President Clinton called on the American people, "…to purge [themselves] of the dark forces which gave rise to this evil.  They are forces that threaten our common peace, our freedom, our way of life."
President Bush in 2004 made this appeal tied to the War in Iraq: "… one of the Iraqi men used his new prosthetic hand to slowly write out, in Arabic, a prayer for God to bless America. I am proud that our country remains the hope of the oppressed and the greatest force for good on this Earth."
Both Clinton and Bush authentically tie a sense of religion to what it means to be American and what America means to the world.
A 1980 campaign ad for Jimmy Carter strikes an overtly religious chord as the commercial pans from the spine of a Bible to a shot of Carter sitting behind his desk.
The message is clear: Carter's religion is part of his character.
Twenty years earlier, John Kennedy, our first Catholic president, went to great lengths to reassure the public that he could separate his religion from his governing.  Times have changed.
5. Look for a "Book of Mormon" moment
When Romney downplays his religion and speaks vaguely about his love of country and Constitution, he fails to seamlessly link his faith to his patriotism in creating his personal narrative. I'm not convinced that this is a smart strategy for Romney.
He appears to lack a core belief in something, thus we voters lack information to connect with Romney.
What he needs is a "Book of Mormon" moment.  In the Tony Award winning Broadway musical, Elder Price reaffirms his core beliefs via song.
But Romney shouldn't just sing, as he did with "America the Beautiful" last month.
Romney could start by saying: "I believe that my faith in God led me through the tough times. I believe this because I've lived it. I've doubted myself as a young missionary, but my faith was my anchor. And, I believe that I would not be the person I am today if it weren't for my faith, my family and this country."
Without a statement of his core beliefs linking to his life experience, Romney's personal narrative is shallow and his civil religion rhetoric will continue to ring hollow.
The opinions expressed in this commentary are solely those of Dan Birdsong.