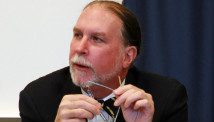 Editor's note: Edward L. Queen II directs the D. Abbot Turner Program in Ethics and Servant Leadership at Emory University's Center for Ethics.
By Edward L. Queen II, Special to CNN
(CNN) - The true architects of the Trayvon Martin killing not only will not go unpunished, they also will go unnamed.
Those who created the conditions for Martin's killing - those who, one might say, invited it - were the Florida legislators who voted for a law that undid not only decades of positive law regarding self-defense but also centuries of legal tradition.
In promoting "stand your ground" laws, self-proclaimed conservatives become grossly irresponsible radicals, drastically and dramatically undoing centuries of accumulated wisdom in their evisceration of the traditional formulation of self-defense.
They rip apart the traditional understanding of the legitimate use of deadly force in self-defense and invite people to kill.
Traditionally, the law understood deadly force to be justified in self-protection only when an individual reasonably believed that its use was necessary to prevent imminent and unlawful use of deadly force by the aggressor. Much of the tradition also argued that deadly force, outside of one's immediate home, was not justified if a nondeadly response, such as retreating to a safe place, would suffice.
In adopting its "stand your ground" law in 2005 (officially Title XLVI, Chapter 776.013) the Florida Legislature, along with 20 other states with similar laws, both expanded the understanding of when deadly force is acceptable and eliminated the duty to retreat.
Florida's law in particular remade the very nature of self-defense, turning what had been an "affirmative defense" into a presumption of innocence.
Before the passage of these "stand your ground laws," most jurisdictions in the United States required one to demonstrate that one was acting in self-defense, that one had been attacked, that one reasonably feared for one's life and that it was reasonable to use deadly force to protect oneself.
Unfortunately, Florida's law expressly presumes that the individual using deadly force in self-defense had a reasonable fear of death or serious bodily injury. It also immunizes the individual from arrest or even being detained in custody, hence the failure of the police to arrest George Zimmerman, the neighborhood watch volunteer who has acknowledged shooting Martin.
One can only be shocked at this law's idiocy. It is, simply, an invitation to kill.
Under the "stand your ground" law, any liar who kills someone and can concoct a reasonably plausible story cannot be arrested by the police or even taken in for questioning. Lest one think the Martin case is exceptional, justifiable homicide/self-defense claims have tripled since the law's adoption, according to the Florida Department of Law Enforcement.
The law also places police officers in a difficult situation; the killer's story often cannot be contradicted because the person in the best position to challenge it is in no position to do so. That individual is dead - silent and cold.
That many people, including the legislators who authored the Florida legislation, have said the facts, as they emerged later, suggest that Zimmerman may not have acted in self-defense changes nothing.
The problem with the law is that, absent the outcry that followed, the facts would not have emerged. Unable to arrest and question the killer and to pursue the case, police find themselves in a situation where they are prevented from gathering the facts.
This structural limitation is exacerbated by the biases and prejudices that the officers bring with them regarding race, age, gender and criminality, to name just a few.
In their thoughtless attempts to undo the wisdom of centuries, extremists in the Florida Legislature went out of their way, if not to legalize murder, at least to decriminalize it. Each legislator who supported the law had a hand in Trayvon Martin's killing and perhaps others.
With its craven attempt to garner votes by purportedly expanding individuals' abilities to protect themselves, the Florida Legislature has made all of us targets and each of us a potential victim.
The opinions expressed in this commentary are solely those of Edward L. Queen II.