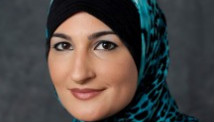 Editor's note: Linda Sarsour is national advocacy director of the National Network for Arab American Communities and director of the Arab American Association of New York. Follow her on Twitter.
By Linda Sarsour, Special to CNN
(CNN) - I've been among the millions mourning the killing of Trayvon Martin, but I'm also mourning the fact that another recent killing has gotten little national attention.
Last week, a 32-year old Iraqi Muslim mother named Shaima Alawadi was found brutally beaten with a tire iron in her El Cajon, California, home and died three days later. A note reportedly left beside her said, "Go Back to your country, you terrorist."
As an Arab-American Muslim mother of three, I instantly thought about myself and my family.
Alawadi's death put a mirror up to my face. I am 32, I wear a headscarf, like Alawadi did, and I live during one of the most hostile moments that the Muslim American community has ever experienced, especially in the decade since 9/11.
Blacks in America continue to face racism on a daily basis, from the workplace to interactions with law enforcement. And yet racism against African-Americans is publicly acknowledged as unacceptable.
CNN's Belief Blog: The faith angles behind the biggest stories
No one in power dares use the N-word publicly, fearing the wrath that will be bestowed upon them.
Unfortunately, that's not the case for Muslims in America. Bigotry against Muslims is quite acceptable. From media pundits to elected officials to presidential hopefuls, spewing misinformation and hatred about Muslims and Islam has been normalized.
In America, terrorism has become synonymous with Arabs and Muslims. We see that clearly stated in the note left next to Alawadi.
Law enforcement is investigating Alawadi's case and says it will not rule out the possibility of a hate crime but also called the killing "an isolated incident."
According to a report released by the FBI in 2011, anti-Muslim hate crimes increased by nearly 50% in 2010. The latest statistics show a jump from 107 anti-Muslim hate crimes in 2009 to 160 in 2010.
Follow the CNN Belief Blog on Twitter
Last year saw the coldblooded killing of two Sikh elders who apparently "looked" Muslim. The year before saw the stabbing of a Muslim cabdriver who told a white passenger he was Muslim.
Isolated incidents? I don't think so.
Given mosque vandalism and opposition, proposed anti-Sharia laws and congressional hearings on American Islam, the rash of anti-Muslim hate crimes is not so surprising. As appears to be the case with Trayvon Martin, what's dangerous is when ordinary citizens act on bigotry, born of misinformation and fear of the unknown.
While there has been some effort to connect Martin and Alawadi by focusing on their attire - a hoodie for the African-American teen and a hijab for the young mother - there has been a deafening silence and reluctance to take Alawadi's case to the forefront of public debate by some in the Muslim community.
Major Muslim organizations and activists have been treading carefully, warning community members not to "jump to conclusions."
I for one have been disheartened and feel disempowered by this response. As in Martin's case, there is still an ongoing investigation into Alawadi's death.
But with only initial evidence - a dead black teenager, an iced tea, a pack of Skittles, a neighborhood watchman - many of us have presumed the Martin killing is an unfortunate result of racism in America.
Some have even gone so far as to compare Martin's death to that of Emmett Till.
Why not the same for Alawadi?
Is an Arab Muslim woman drowning in her blood with a note deeming her a terrorist and telling her to go back to her "country" not explicit enough?
Instead of looking at Alawadi's death in light of the anti-Muslim environment we live in, Muslims allow our internalized oppression to lead us to believe the stereotypes perpetuated against our community.
I have seen tweets and comments from Muslims suggesting the possibility Alawadi's killing might be an act of domestic violence or, worse, an honor killing. 
In the United States, we need to come to terms with anti-Muslim bigotry, stand up to it and unequivocally deem it unacceptable. An injustice toward any one person or community is an injustice to us all.
I am Trayvon Martin. I am Shaima Alawadi, too.
The opinions expressed in this commentary are solely those of Linda Sarsour.