By Dan Merica and Kate Bolduan, CNN
Washington (CNN) – Rep. Paul Ryan defended his proposed federal budget on Thursday against criticism from some Catholics, who say it violates their tradition's teaching by putting an undue burden on the poor.
Ryan, a Catholic who chairs the House Budget Committee, told students and faculty at Georgetown University, a Jesuit school, that his budget was in line with his understanding of his faith, though some Georgetown faculty are organizing opposition to his proposal.
"Of course, there can be differences among faithful Catholics on this. The work I do, as a Catholic holding office, conforms to the social doctrine as best I can make of it," said Ryan, a Wisconsin Republican. "What I have to say about the social doctrine of the church is from the viewpoint of a Catholic in politics applying my understanding of the problems of the day."
As Ryan spoke, a group of nine students perched in the balcony section of the auditorium made that unfurled a banner that said "Stop the war on the poor - No social justice in Ryan's budget."
The unveiling startled the crowd, but Ryan continued as if nothing had happened.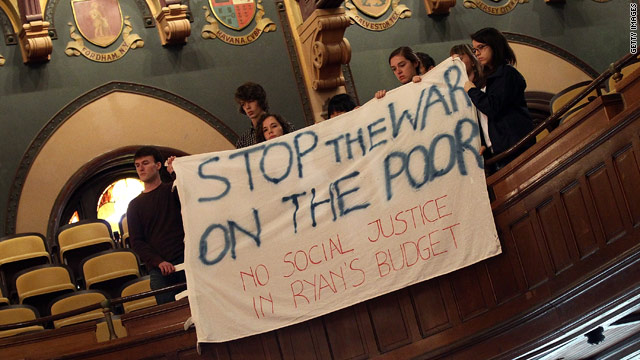 "I think that his budget proposals are incompatible with social justice which is a core Catholic social teaching and part of Jesuit values," said Cole Stangler, a junior history major at Georgetown. "So for him to come here and say that he is deep in touch with his Catholic values are misguided."
Georgetown University describes itself as a "global research university deeply rooted in the Catholic faith," and was founded by John Carroll, America's first Catholic bishop.
Ryan's $3.53 trillion dollar budget doubles down on past proposals to overhaul Medicare and other government programs that are seen as politically sensitive. While the budget has little chance to become law, it draws a distinct contrast with Democratic views on spending and will loom large in the 2012 race for the presidency.
The nine students who protested inside the auditorium, who identified as part of the Occupy movement at Georgetown, said that when they heard Ryan was speaking, they decided to protest the event.
"We thought it was important to make a very clear and bold and peaceful statement to him, to his face," said Madeline Collins, a junior at Georgetown.
This speech and protest comes after a group of Georgetown faculty members sent Ryan a letter about his budget. In it, 90 faculty members and other staff, including a group of priests, write that "we would be remiss in our duty to you and our students if we did not challenge your continuing misuse of Catholic teaching to defend a budget plan that decimates food programs for struggling families, radically weakens protections for the elderly and sick, and gives more tax breaks to the wealthiest few."
Attached to the letter was the Vatican's Compendium of the Social Doctrine of the Church, commissioned by Pope John Paul II. The authors of the letter wrote that they hoped it would "help deepen your [Ryan's] understanding of Catholic social teaching."
At the start of his speech, Ryan joked about the letter, saying that he had received the letter and appreciated the dialogue it has started.
Much of the uproar was sparked when Ryan said that his Catholic faith shaped the budget principles outlined in his proposal. In particular, Ryan pointed to the Catholic idea of "subsidarity," an idea the Ryan defined as "the government closest to the people governs best," as a main driver of his proposal.
The Georgetown faculty members said that Ryan misunderstand the meaning of "subsidarity."
"Subsidiarity is not a free pass to dismantle government programs and abandon the poor to their own device," reads the letter. "It calls for solutions to be enacted as close to the level of local communities as possible. But it also demands that higher levels of government provide help - 'subsidium'– when communities and local governments face problems beyond their means to address such as economic crises, high unemployment, endemic poverty and hunger."
In addition to the Georgetown group, the United states Conference of Catholic Bishops have issued a statement cautioning against overreaching budget cuts that endanger "poor and vulnerable people." The bishops' message calls on "Congress and the Administration to protect essential help for poor families and vulnerable children and to put the poor first in budget priorities."
Outside Ryan's speech, Catholics United, a liberal Catholic group, held their own protest. A little over a dozen people stood outside Healy Hall, where the speech took place, and held a sign the read, "WERE YOU THERE WHEN THEY CRUCIFIED THE POOR?"
In an interview with CNN, Chris Pumpelly, the group's communications director, labeled Paul's budget "unmoral and unchristian."
"Paul Ran's budget fails a basic moral test," Pumpelly said. "Asking our seniors and working class Americans who live paycheck to paycheck to pay for the tax breaks for the super wealthy and not asking defense department to share in that sake nice isn't just unfair, it's unmoral and unchristian."
In his speech, Ryan positioned his budget in a much different light.
"If enacted, this budget would promote economic growth and opportunity starting today, with bold reforms to the tax code and a credible, principled plan to prevent a debt crisis from ever happening," Ryan said of his budget proposal. "Our budget offers a better path, consistent with the timeless principles of our nation's founding and, frankly, consistent with how I understand my Catholic faith."
Helping the poor through charity is a core tenet in the eyes of many American Catholics, according to a survey of American Catholics released late last year by the National Catholic Reporter. In it, almost 70% of respondents said that helping the poor was something "very important," to a Catholics' identity. According to the survey, helping the poor was "almost as core to Catholics' identity as their belief in Jesus' resurrection."
There has also been an increase in stress put on helping the poor by Catholics. "In 2005, 44% of Catholics said that a person could be a good Catholic without donating time or money to help the poor," reads the survey. "But now in 2011, this figure has increased to a substantial 60 percent."
- CNN's Rebecca Stewart contributed to this report.