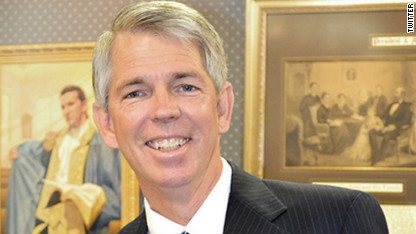 By Dan Gilgoff, CNN.com Religion Editor
A longtime star on the conservative Christian circuit, controversial evangelical historian David Barton is today the No. 1 trending topic on Google.
The online surge comes on the heels of Barton's appearance on The Daily Show on Tuesday night.
Barton argues that religion – and Christianity in particular – played a huge role in the founding and history of the United States, and that that role has been largely scrubbed from the history books by modern secular elites.
The Texas-based Barton runs a group called WallBuilders, which is "dedicated to presenting America's forgotten history and heroes, with an emphasis on the moral, religious, and constitutional foundation on which America was built – a foundation which, in recent years, has been seriously attacked and undermined," according to its website.
In his new book, "The Jefferson Lies: Exposing the Myths You've Always Believed About Thomas Jefferson," Barton attempts to dispel the popular notion that Thomas Jefferson was a secular politician who pioneered the idea of strict church-state separation.
Barton wears a variety of hats in Republican and conservative circles. He's a former top official in the Texas GOP and a sometimes consultant with the Republican National Committee; a behind-the-scenes political operative who advises presidential candidates and coordinates trips to Israel for the likes of Glenn Beck; and a prolific author, speaker and Washington tour guide on the evangelical circuit.
Barton and his work are featured prominently in former "Growing Pains" star Kirk Cameron's new movie "Monumental," about the role of religion in American history.
Barton's work has drawn many critics, including Warren Throckmorton, an associate professor of psychology at Grove City College who has fact-checked some of Barton's work. "That's just not what happened," Throckmorton frequently says of Barton's version of historical events.
Do you have an opinion of David Barton? Ever read his work or see him speak? Share your views and stories in comments.