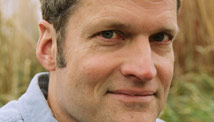 Editor's Note: Stephen Prothero, a Boston University religion scholar and author of "God is Not One: The Eight Rival Religions that Run the World," is a regular CNN Belief Blog contributor.
By Stephen Prothero, Special to CNN
Dear Deity,
In the Milky Way, on planet Earth, in the United States of America, Thursday is our National Day of Prayer, so I am writing to ask You how to pray.
Seventy eight percent or so of U.S. citizens are Christians, so should we pray today to the Christian God? This seems to be the conviction of the folks at the National Day of Prayer Task Force, which pops up first if you Google "National Day of Prayer." (By the way, do You Google, God? And if so do you ever Google "God"?)
The NDP Task Force refers to itself as "Judeo-Christian," but it sure looks evangelical to me. It has been chaired since 1991 by Shirley Dobson, the wife of Focus on the Family founder (and evangelical stalwart) James Dobson. Its site quotes liberally from the New Testament, and one of its goals is to "foster unity within the Christian Church."
A NDP Task Force press release begins: "Americans to Unite and Pray on Thursday, May 3rd, for the 61st Annual Observance of the National Day of Prayer." But will their sort of prayer really unite our nation?
Twenty four percent of Americans are Catholics, and God knows they don't pray the way evangelicals do. Nearly 2% are Mormons and another 2% are Jews. And neither of those groups talks to You with the easy familiarity of born-again Christians.
CNN's Belief Blog: The faith angles behind the biggest stories
And what about American Hindus and Muslims and Buddhists?  Muslims agree with their Jewish and Christian neighbors that there is one God. But how to pray as a nation when some believers affirm more than one God and some affirm fewer?
As You obviously know, the 1.6% of Americans who call themselves atheists and the 2.4% who call themselves agnostics refer to today as the National Day of Reason. On their web site, they argue that our National Day of Prayer represents an unwanted and unconstitutional intrusion of religion into the workings of the U.S. government.
In his various proclamations of the National Day of Prayer, including this year's, President Obama has referred to prayer as an important part of U.S. history. He speaks of the Continental Congress and Abraham Lincoln and Martin Luther King, Jr. being driven to their knees by the force of the tasks set before them.
But when our national icons have prayed on our behalf, they have done so in generic terms. Washington addressed "the Almighty"; Jefferson called on "that Infinite Power." They did so because they wanted prayer to unite us, not to divide us, and they knew from the start that different Americans call You by different names.
Follow the CNN Belief Blog on Twitter
But addressing "Providence" in vague pieties will not satisfy everyone either. The evangelicals at the NPD Task Force reject efforts to "homogenize" America's many different ways of praying into one common prayer.
I see their point. Like language, religion is a specific sort of thing. If you are going to speak, you need to choose a language. If you are going to pray, you need to choose a religion (and a god). So if they want to pray to the Father, the Son, and the Holy Spirit, more power to them.
But what happens when that particular prayer language is put forth as our collective national language? What happens when we pray, as Rick Warren did at President Obama's inaugural, "in the name of the one who changed my life, Yeshua, Isa, Jesus"? Then prayer turns into a wedge, dividing those who call you Christ from those who call You Krishna (or do not call on You at all).
So I return to my original question: How should we pray on this National Day of Prayer?
But while I have Your attention (do I?) I have one more.
This year the NDP Task Force has chosen for its theme "One Nation Under God" and its Bible quote is: "Blessed is the nation whose God is the Lord" (Psalms 33:12). Is our god You? Since 1954 we have bragged in our Pledge of Allegiance that we are "one nation under God." Are we?
All too often, it seems to me, we use You rather than following You. Democrats ask You to shill for them on tax policy and immigration. Republicans claim to speak in Your name on abortion and gay marriage. Does this annoy You — playing the pawn in our political chess games? Don't You sometimes just want to smite us?
Finally, before I let you go, I must ask You about the marginal tax rate for the wealthiest Americans. Perhaps You have more important things on your plate, but while I have Your attention (do I?) I must ask: What portion of their income should millionaires pay to the U.S. government? When President Kennedy came into office the highest income tax rate was 91%. Was that too high? Today it is 35%. Is that too low? (Just curious.)
This prayer is already too long, so I should stop. But if You are still there (are You?) maybe you could just tell me whether You follow the Roman Catholic Church. If so, could you comment on the recent fight the Vatican has been picking with American nuns? Do you think our nuns should be spending more time fighting contraception and less time caring for the poor and the sick?
And do get back to me on that how to pray thing. We're all supposed to do it on Thursday, together.
Sincerely,
Steve
The opinions expressed in this commentary are solely those of Stephen Prothero.