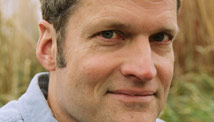 Editor's Note: Stephen Prothero, a Boston University religion scholar and author of "God is Not One: The Eight Rival Religions that Run the World," is a regular CNN Belief Blog contributor.
By Stephen Prothero, Special to CNN
My public letter to God on how we should pray on America's National Day of Prayer drew over 4000 comments on Thursday. Many were the online equivalent of the courtship displays the wild turkeys are doing in my yard this week — gobbling on behalf of Christianity or atheism. But some were less driven by impulse and instinct.
Many commenters accused me of irreverence. "Bill" called my letter "a cheap literary trick" full of "sarcasm and disrespect." "I wonder if you would address Him so flippantly if he were standing in front of you?" "Ron from Jersey" said I showed "no respect or understanding of the personal and loving god of Judeo-Christian belief."
It seems to me, however, that those who are showing disrespect for God are those who claim to divine precisely what God believes about politics or prayer.
I cut my teeth as a graduate student studying New England's Puritans, and when they approached God (in prayer or otherwise) they did so with a healthy measure of fear. Yes, they believed God loved them. But they also believed there was a huge gap — an "infinite qualitative distinction" in the words of theologian Karl Barth — between sinful humans and the omniscient God. So out of respect for God's sovereignty they would never presume to know exactly what God was thinking about anything.
CNN's Belief Blog: The faith angles behind the biggest stories
"JC in Western U.S." channeled the spirit of these Puritans (and of Barth) when he wrote, "If there is a God, and if He is omnipotent, omnipresent, and omniscient, it would be the height of arrogance for any mere human to claim to know His will."
Channeling a very different spirit, many commenters claimed that my question had an easy answer. "Me" wrote: "Dear Stephen, Asked and Answered. Look up Matthew 6:5-13."
For those who do not have a Bible close at hand, "Me" was pointing to the Lord's Prayer. And many other comments said that the "Our Father" is the prayer we Americans should pray on our National Day of Prayer.
But this very passage from the Sermon on the Mount begins with these words from Jesus:
"And when you pray, do not be like the hypocrites, for they love to pray standing in the synagogues and on the street corners to be seen by others. Truly I tell you, they have received their reward in full. But when you pray, go into your room, close the door and pray to your Father."
Picking up on this theme, "Maine Liberal" wrote, "Christ taught us to pray in private," so we should keep our prayer out of schools and legislatures and off of the streets.
One of the most common comments was that Jesus is God so we should pray to Him. Or, as a different "Matthew" put it: "USA is a Christian country and we should pray to Jesus Christ, our Lord and Saviour. Period."
Follow the CNN Belief Blog on Twitter
But this response begs the question, side-stepping the challenge my piece was written to present. I know how Christians pray. My question was: How should we, as citizens, pray in a country in which some are Christian and many are not?
Assume for a minute that conservative Christians are right. Assume there is one God and that this God is best described in Trinitarian terms as Father, Son, and Holy Spirit. Even if true, this theological reality does not change the demographic fact that millions upon millions of Americans are Hindus, Buddhists, Jews, Muslims and non-believers. It does not tell us how U.S. citizens should pray on our National Day of Prayer.
From its creation, the United States has wrestled with this problem of how to engage in God talk without dividing the nation. And it seems to me that the great generations that preceded us came up with a fairly good solution to this difficult problem.
In other words, while many comments accused me of being a liberal, on this question I am a conservative. I want to conserve what I see as a grand compromise in U.S. history — a wise tradition in which God is invoked yet not explicitly described. Simultaneously, I want to resist two relatively recent innovations: efforts to banish God from the public square, and efforts to turn public talk of God into public talk of Christ.
I understand the frustrations of the atheists who flood the comment boards of CNN's Belief Blog every day. I sympathize with "Voice of Reason" who called for a "National Do Not Pray Day" and with "William Demuth" who said we should "forget prayer" and do good instead: "Pick up some trash . . . Feed someone who is hungry."
But a public square stripped of all references to religion has never been the American way. Traditionally, our response to the religious (and non-religious) diversity in our midst has been to allow for God talk in American politics, but to keep that talk generic and to keep it to a minimum.
This grand compromise strikes me as wise. The atheist furor in the United States today is not responding for the most part to this tradition. It is responding to a quite recent anti-traditional innovation—an effort to make our God talk explicitly Christian (or Judeo-Christian) and to place that particular form of faith front and center in American public life.
This innovation strikes me as disrespectful to those in our midst who do not believe in God or who call God by some other name than Jesus Christ. It also strikes me as unwise and impolitic.
Striking a theme of many commenters yesterday, "ambersue" wrote, "Today is National Day of Prayer and it is for those who believe in Jesus Christ as their Savior. This day is for Him, and Him alone." To which "NC" responded: "yep, I guess the rest of us don't exist anymore."
See the problem? If you do, you understand what I was trying to say yesterday in my open letter to God.
The opinions expressed in this commentary are solely those of Stephen Prothero.