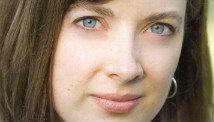 Editor's note: Andrea Palpant Dilley is the author of "Faith and Other Flat Tires."
By Andrea Palpant Dilley, Special to CNN
During my junior year in college, I took a butter knife from my mother's kitchen  and scraped the Christian fish decal off the back bumper of the Plymouth hatchback I'd inherited from my older brother. Stripping off that sticker foreshadowed the day, a few years later, that I would walk out of church.
The reasons for my discontent were complicated. By most standards, I had a healthy childhood.  I grew up the daughter of Quaker missionaries in a rural Kenyan community that laid the foundation for my faith. I spent the rest of my childhood in the Pacific Northwest, raised in a stable Presbyterian church that gave me hymns and mission trips and potluck dinners.
I was surrounded by smart, conscientious Christians, the kind of people who read 19th century Russian novels and took meatloaf to firefighters when much of eastern Washington state went up in flames in the fall of 1991.
When I started into my skeptic phase, my Christian community gave me space to struggle. They listened to my doubts about faith. They took my questions seriously.
And yet when I turned 23 I left the church.
Listening to a sermon at my older brother's church one Sunday, I stood up, leaned over to my father and said, "This is bulls**t." I made my way to the end of the pew and marched out of the sanctuary. The sermon didn't sit right with me. The pastor was preaching about Psalm 91, saying in so many words that a person just needed to pray and have faith in order to be protected from suffering.
More than just that sermon, I was sick of church. I was sick, too, of all the spiritual questions plaguing me: Why does the church seem so culturally insulated and dysfunctional? Why does God seem distant and uninvolved? And most of all, why does God allow suffering?
These questions didn't come out of nowhere. I'd spent time in high school volunteering in refugee camps in Kenya and in college working with families on welfare in central Washington. I saw hungry babies. I walked into homes that were piled with garbage and dirty laundry.
In an orphanage in the slums of Nairobi, I held AIDS babies and worked with disabled kids who'd been left at the front gates of the orphanage by parents who couldn't afford to feed them. I saw things that I couldn't make sense of as a Christian.
Walking out of church was a way of saying "To hell with it; I'm done."
For two years, I skipped church. My Bible gathered dust on the shelf. The local bars became my temples. I indulged in the cliché rebellions of a Christian girl, smoking cigarettes and drinking hard alcohol. I got involved with men twice my age without thinking twice about it.  I wanted a break from being "good."
And then, strangely, I woke up one morning at age 25, climbed into my car, and drove downtown to attend a 10 a.m. church service. I won't relate here the whole story of how I came back to the church. But if I had to follow the standard testimonial narrative for Christians, the script for my life story would go something like this:
Step 1: Grow up in a Christian church.
Step 2: Go off to college away from said church.
Step 3: Be exposed to the enticements of secular life.
Step 4: Try drugs and cigarettes and Pearl Jam.
Step 5: Leave the church because of aforementioned enticements.
Step 6: Experience epiphany; realize vapidness of secular enticements.
Step 7: Return to church with penitent heart.
Step 8: Reestablish faith, discover good living.
In reality, I left the church more because of my own internal discontent than the lure of so-called secular life. When I came back, I still carried that same discontent. I was confused, and still bothered by questions and doubts. I stayed in the back row and didn't sing or pray. I wasn't really sure I wanted to be there.
And yet I sat there, Sunday after Sunday, listening to the pastor and the organ pipes and trying to figure out what was going on in my dark, conflicted heart.
Although I never experienced that dramatic reconversion moment, I did come to peace with two slow-growing realizations.
First: My doubt belonged in church.
People who know my story ask what I would have changed about my spiritual journey. Nothing. I had to leave the church to find the church. And when I came back, the return wasn't clean or conclusive. Since then, I've come to believe that my doubts belong inside the space of the sanctuary. My questions belong on the altar as my only offering to God.
With all its faults, I still associate the church with the pursuit of truth and justice, with community and shared humanity. It's a place to ask the unanswerable questions and a place to be on sojourn. No other institution has given me what the church has: a space to search for God.
Second: My doubt is actually part of my faith.
In Mark 9:24, a man says to Jesus, "I believe, help my unbelief." The Catholic writer Flannery O'Connor called this the foundation prayer of faith. I pray that prayer often and believe that God honors my honesty.
I also believe God honors my longing. The writer and theologian Frederick Buechner said "Faith is homesickness." C.S. Lewis called it "Sehnsucht," a longing for a far-off country. I feel that sense of unshakable yearning. It comes from the deepest part of my heart, a spiritual desire that's strangely, mysteriously connected to my doubt.
Sitting in church every Sunday, my doubt is my desire – to touch the untouchable, to possess the presence of God.
The opinions expressed in this commentary are solely those of Andrea Palpant Dilley.