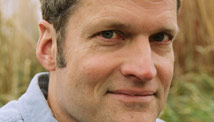 Editor's Note: Stephen Prothero, a Boston University religion scholar and author of "God is Not One: The Eight Rival Religions that Run the World," is a regular CNN Belief Blog contributor.
By Stephen Prothero, Special to CNN
The New York Times reports this week that gays and lesbians are now commonplace on hit television shows. But Christians are coming out of the closet and onto our television sets, too.
"Glee" may feature a gay couple (Kurt and Blaine), a lesbian couple (Santana and Brittany), and a transgender character (Unique), but it also includes the God Squad, a group of Christians that meet in school and struggle with the demands of their faith.
On the first season of "The Glee Project," a reality show that trolls for talent to feature on "Glee," actor Samuel Larsen won a seven-episode role in part because of a tattoo on his chest quoting from Psalm 18 ("I will love thee O Lord my strength"). Larsen, who also sports long dreadlocks, obviously has that elusive "it" factor, but one reason he won "The Glee Project" was that "Glee" executive producer Ryan Murphy wanted to feature a Christian character on the show.
Larsen's character, transfer student (and former home schooler) Joe Hart, debuted on the "Heart" episode on Valentine's Day, and since then he has been the "Christian guy" - aka "Teen Jesus" - at William McKinley High.
In that episode, the God Squad raises money by performing singing telegrams at $10 a pop, but when Santana (Naya Rivera) asks them to sing for her girlfriend Brittany (Heather Morris), Joe balks and a discussion about the Bible and homosexuality ensues.
CNN's Belief Blog: The faith angles behind the biggest stories
Mercedes (Amber Riley) calculates that since "one out of every ten people are gay . . . one of the twelve apostles might have been gay." Sam (Chord Overstreet) observes that "the Bible says it's an abomination for a man to lay with another man," prompting Quinn (Dianna Agron) go ask, "Do you know what else the Bible says is an abomination? Eating lobster, planting different crops in the same field, giving somebody a proud look. Not an abomination? Slavery. Jesus never said anything about gay people. That's a fact."
Matt Philbin at the Media Research Center cites this episode as an example of the liberal "crusade against faith," characterizing "Glee" for "attacking the Bible while pushing the gay agenda.
I have a different take. I think it's about time that Christian characters are showing up on television shows. I think it's great that these characters are portrayed as flesh-and-blood people who struggle with their faith like the young Christians I know who struggle with theirs. And I think it's amazing that characters on one of the most popular shows on television are actually discussing the Bible!
Follow the CNN Belief Blog on Twitter
In a more recent episode, called "Dance With Somebody," Joe gets into another conversation about how to live as a Christian. He has fallen for Quinn while helping her rehabilitate from a car crash, and he's trying to reconcile what his teenage body says about sex with what the Bible says.
In the boys locker room, Sam tells him to go for it, arguing that you can be a good Christian and a sexual person at the same time. But Joe isn't so sure he should give in to temptation. And when he hints in a conversation with Quinn that he would give up his Christian faith in order to be her boyfriend, Quinn tells him no. "It's nice knowing there's something out there that can't be lost," she says.
I'm not saying Joe is everybody's idea of a good Christian. But out there in the real world in actual U.S. high schools there are all sorts of people who fall somewhere between chaste born-again Christians who see holding hands as a gateway drug to illicit sex and frisky secular humanists who spend more time hooking up than doing their homework.
Let's see more of Joe Hart on "Glee," I say, and more of real Christians (and their struggles) on network television.
The opinions expressed in this commentary are solely those of Stephen Prothero.