By Dan Merica, CNN
Washington (CNN) – In an anticipated and controversial address Friday, Secretary of Health and Human Services Kathleen Sebelius delivered a speech that blended inspirational messages to graduates with a discussion of public policy's tough decisions, including health care and honoring religious freedom.
Her speech at the Georgetown Public Policy Institute awards ceremony had been considered controversial by conservative Catholic organizations that saw her appearance as the university validating her positions on abortion and contraception.
The speech did not mention the controversy directly, but Sebelius did address faith in public life in a section of the speech devoted to John F. Kennedy, the first Catholic president of the United States.
"Kennedy was elected president on November 8, 1960," she said. "And more than 50 years later, that conversation, about the intersection of our nation's long tradition of religious freedom with policy decisions in the public square, continues."
Sebelius continued: "Contributing to these debates will require more than just the quantitative skills you have learned at Georgetown. It will also require the ethical skills you have honed - the ability to weight different views, see issues from other points of view and, in the end, remain true to your own moral compass."
A few minutes into the speech, a protester sitting with families in the crowd stood up and shouted at Sebelius, getting the crowd's attention. "Georgetown should be ashamed," he yelled, drawing boos from the crowd.
Though the protester continued, the crowd largely drowned out his statements. Police escorted him out, but his chants could be heard inside the room as he left.
Sebelius remained composed throughout, and when the speech continued, she received a round of applause.
Student reaction to the protester was largely evidenced by their reaction to his shouting.
"The students here are very committed to public service ..." said Taiyang Gul, 24, who came to Georgetown from China. "Obviously, this is not the forum for expressing opinions. People can express their views in some other occasions."
Gul said in the end, this day was for the students, to mark their success and wish them well.
Ranjini Danaraj, a 31-year-old master's in policy management graduate, dismissed the protester, calling the response to him appropriate, and said she thought Sebelius did a great job.
"I thought [the speech] was great," she said. "She did a good job of relating events from her life that were relevant to us. I thought she had a lot of life lessons to pass along."
The secretary's statements on understanding different points of view largely echoed Georgetown President John J. DeGioia, who defended her invitation by saying Georgetown is "a university, committed to the free exchange of ideas."
DeGioia's defense, however, was not enough for the groups and some faculty who protested Sebelius' speech.
Just outside the Georgetown walls, the American Society for the Defense of Tradition, Family and Property held banners, flags and signs that protested the speech. About 15 protesters counted the rosary and said the Hail Mary prayer as people in graduation gowns walked past.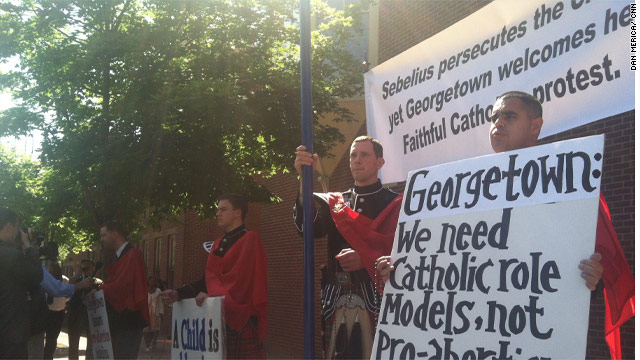 "There are certain lines that we can't cross," said Michael Drake, a volunteer for the organization. "She [Sebelius] has a pro-abortion record from her time in Kansas. ... We are very scandalized that Georgetown would even invite her."
There were also vocal groups of protesters before the speech. Leading the charge was the conservative Cardinal Newman Society, a group that has regularly blogged about speakers at Catholic universities who go against Catholic teachings.
Patrick Reilly, the group's president, labeled Georgetown as "anti-Catholic."
"It is recognized by the bishops as Catholic, so it is Catholic," Reilly said about the university. "Does it do a good job at upholding its Catholic identity? No, it is one of the worst at doing so."
At the heart of his and other protest groups' disagreement is that Catholic bishops, in 2004, released a document that outlined how a Catholic university should invite speakers to campus. In it, the bishops said Catholic universities should not bestow honors upon speakers whose views differ with those of the Catholic Church.
Reilly's take: "I would say that a commencement address falls into the category of an honor."
Protest was not limited to solely independent Catholic organizations, however. The Archdiocese of Washington, D.C., also chimed in on the speech.
"Given the dramatic impact this (contraception) mandate will have on Georgetown and all Catholic institutions, it is understandable that Catholics across the country would find shocking the choice of Secretary Sebelius, the architect of the mandate, to receive such special recognition at a Catholic university," the Washington Archdiocese's statement said.
The archdiocese was referring to a Health and Human Services mandate that religious employers offer health insurance coverage that includes access to contraceptives and birth control services.
Georgetown is the oldest Catholic university in the United States. It was founded by the country's first Catholic bishop, John Carroll, and describes itself as a "global research university deeply rooted in the Catholic faith."
Catholic faith, as directed by the church's hierarchy, is adamantly against abortion, contraception and same-sex marriage. As a Catholic university, Georgetown adheres to those positions - no condoms are passed out on campus, for example - but this has caused friction with the student body.
In her remarks, Sebelius addressed the path she took to become leader of the Department of Health and Human Services. She also talked about her role in implementing President Barack Obama's hallmark health care legislation.
"I have the extraordinary opportunity to help implement legislation that is finally, after seven decades of failed debate, ensuring that all Americans have access to affordable health care," she said.
Sebelius was one of a handful of graduation speakers at Georgetown this weekend. Many of the university's individual schools have both a commencement and an awards ceremony. Sebelius was speaking at the awards ceremony - called a tropaia, after the Greek word for "trophy" - for Georgetown's Public Policy Institute.