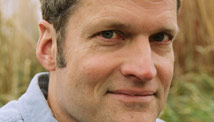 Editor's Note: Stephen Prothero, a Boston University religion scholar and author of "The American Bible: How Our Words Unite, Divide, and Define a Nation," is a regular CNN Belief Blog contributor.
By Stephen Prothero, Special to CNN
(CNN) - Today is a day to remember those who have given their lives in the service of their country. It is also a day to reflect on war.
In my new book, "The American Bible: How Our Words Unite, Divide, and Define a Nation," I explore 27 texts that have served as "scripture" of sorts in American public life. Each of these texts addresses the meaning of "America" and "Americans," and each has provoked much commentary and controversy.
Here are the five best, in my view, on the meaning and ends of war.
1. George Washington's Farewell Address (1796)
This justly famous farewell address is celebrated today among social conservatives for commending religion as a "pillar" of good government. Those seeking an antidote to our current epidemic of petty partisanship quote its condemnation of "the common and continual mischiefs of the spirit of party."
But Washington was a military man, so he also warns us against the evils of loving or hating any nation. To do either, he writes, "is in some degree to become a slave ... to its animosity or to its affection."
CNN's Belief Blog: The faith angles behind the biggest stories
How many of our troubles today arise from "passionate attachment" toward some nations or "inveterate antipathies" against others?
How many wars in U.S. history might have been avoided if we had heeded the wisdom of Washington's "foreign policy of independence"?
2. Henry David Thoreau, "Civil Disobedience" (1849)
In July 1846, while living in his Walden Pond cabin, Transcendentalist Henry David Thoreau was arrested and jailed for refusing to pay a poll tax. This classic essay explains and justifies his refusal, arguing that each citizen has a duty to resist a government whose actions — in this case, supporting slavery, mistreating Indians and prosecuting the Mexican-American War — offend the higher law of conscience.
"Civil Disobedience" has been criticized as naïve, but this "bible of protesting minorities" profoundly influenced both Mohandas Gandhi and the Rev. Martin Luther King Jr. and, through them, both Indian independence and the U.S. civil rights movement.
3. Chief Joseph's Surrender Speech (1877)
What do you say after you and your people (the Nez Perce) have been fleeing American soldiers for three months and 1,500 miles, when your people are hungry and freezing and mass death seems the only alternative to surrender? In a word, this.
As legend has it, Chief Joseph handed over his gun. He took an inventory of the dead. He said he was tired of fighting. Then he said, "From where the sun now stands, I will fight no more forever."
Or did he? Most scholars now believe that this speech was actually written after the fact by an aide to an American general. Nonetheless, it has been quoted in song lyrics, memorialized in a Ken Burns documentary and immortalized in a book-length poem by Robert Penn Warren.
Chief Joseph's words were celebrated in his time because they called attention to the human costs of westward expansion and Manifest Destiny. They live today because they symbolize the tragedies of Native American history.
4. President Eisenhower's Farewell Address (1961)
Echoing Washington, who spoke against "overgrown military establishments which, under any form of government, are inauspicious to liberty," President Eisenhower issued a similar warning in his farewell address: in this case against the "unwarranted influence" of the "military-industrial complex."
Although lost in the moment, which belonged to the inauguration of John F. Kennedy and the Camelot myth, these words rang like prophecy in the late 1960s, when allegations that "merchants of death" were holding the country hostage became a staple at Vietnam War protests.
Today, hope for anything like the "balance" Eisenhower sought between the demands of the military and the demands of liberty seems hopelessly nostalgic. The United States now spends more on its military than next 10 biggest spenders combined.
5. Maya Lin's Vietnam Veterans Memorial (1982)
This reflective black granite memorial cut into the Earth on the National Mall in Washington is not a text in any conventional sense, so I blanched when a friend suggested that I include it in "The American Bible." But architect Maya Lin herself saw it as "analogous to a book," and so it is: more than 58,000 names carved into reflective black granite, waiting for visitors to read them and weep.
Long before it was opened, critics derided this memorial as a "black gash of shame" and "a tribute to Jane Fonda." Where was the reassurance that the Vietnam War was a noble cause? Where were the heroic images of our fallen fighters? When it opened, however, its undeniable emotional power silenced most naysayers.
Lin wanted her creation to serve as a place where Americans could go to think about the war without being told what to think and to speak to the dead without being told what to say. It did just that. Today, the Vietnam Veterans Memorial is an American Lourdes: a pilgrimage site where the living come to commune with the dead and to reckon with war and their own mortality in the medium of the mirror that is the Wall.
The opinions expressed in this commentary are solely those of Stephen Prothero.