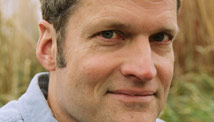 Editor's Note: Stephen Prothero, a Boston University religion scholar and author of "The American Bible: How Our Words Unite, Divide, and Define a Nation," is a regular CNN Belief Blog contributor.
By Stephen Prothero, Special to CNN
Over the past year or so, I have been working on a book called "The American Bible." The hardest part was the table of contents.
"The American Bible" isn't a new translation of the Christian Bible. It's my term for the texts that function like scripture in American public life, the voices to which we are forever returning as we reflect together on what America is all about.
In some cases, we refer explicitly to these texts as "sacred" or "immortal." At a campaign stop in Mesa, Arizona, in February, Mitt Romney implied that the Declaration of Independence and the Constitution might be "inspired by God."
In all cases, however, we treat them like scripture, returning to their words as we ponder the meanings and ends of our country, and invoking their authority in debates over gay marriage and taxes. In other words, these are the speeches and songs, letters and novels that continue to stir commentary and controversy, the voices that bring us together into the collective conversation that I see as the rite of our republic.
But which voices to include in my book? Which texts have "we the people" embraced as scripture? And what are the key commentaries upon them? As I struggled to answer these questions, I knew I'd be criticized for the choices I made.
CNN's Belief Blog: The faith angles behind the biggest stories
When "Cultural Literacy: What Every American Needs to Know" appeared in 1987, author E.D. Hirsch was widely criticized for producing a list of "core knowledge" that was too conservative and too white. His 63-page list of people, places and events neglected knowledge that is central to the experiences of African-Americans, Latinos and women, many argued.
With Hirsch and his critics in mind, I began the quest for my canon by devising some defensible guidelines. I decided right away that the book should be descriptive rather than prescriptive. In other words, I would aim not to create a canon but to report upon one; I would include not the voices that inspire me but those that "we the people" have revered.
I then fixed on two criteria. First, I would look for texts that have generated conversation and controversy, books we value enough to fight about. Second, I would look for texts that speak to the meaning of "America" and "Americans," telling us where our nation has been and where it should be going.
I also decided that I would include alongside my "biblical" books extensive commentary about each, tracking their "afterlives" over the course of U.S. history. In other words, my "American Bible" would look something like an "American Talmud," with extensive commentaries tracking the conversations Americans had about the Declaration of Independence during the Civil War and about the Gettysburg Address during the civil rights movement.
Follow the CNN Belief Blog on Twitter
When Nathaniel Philbrick referred to "Moby-Dick" as "our American Bible," he meant that Melville's classic is a big book that carries inside it the "genetic code" of American life. In my view, however, "Moby-Dick" has not been as influential as either Harriet Beecher Stowe's "Uncle Tom's Cabin" or Mark Twain's "Adventures of Huckleberry Finn," each of which has carried considerable weight in our national conversation about race. So I eliminated "Moby-Dick."
Other cuts were more difficult. I am a big fan of "Leaves of Grass," Walt Whitman's love letter to democracy. But I thought that "Paul Revere's Ride" by Henry Wadsworth Longfellow ran even deeper into the American psyche, so "Leaves of Grass" had to go. Eventually, as the book ballooned beyond its limits, I had to let Longfellow's "Revere" gallop away, too. It just hadn't provoked enough arguments.
Also slighted in "The American Bible" are more recent voices, since it is harder to generate a vast commentary tradition for a work from the 1990s or 2000s than for one published during the revolution or the Civil War. Still, I admit that most of the voices in this collection are those of dead white men. In fact, the only living author of an "American Bible" book is the Vietnam Veterans Memorial architect Maya Lin.
Nonetheless, women, native Americans, African-Americans and Muslims are among the authors of my "biblical" books, and voices of the commentators — from Frederick Douglass to Rosa Parks and Gloria Steinem to Alan Greenspan — are far more diverse.
"The American Bible" also ranges, in its primary and secondary texts, far and wide across the political spectrum. Radical historian Howard Zinn and consumer activist Ralph Nader are heard here. So are conservative activists and intellectuals such as William F. Buckley Jr., Robert Bork, Rush Limbaugh and Antonin Scalia.
When I finished constructing "The American Bible," I was delighted to see that there are lessons aplenty here concerning both what our forbears have said about our country and how they have said it. In a time when party passions threaten to divide the country, it is gratifying to recall the words our fellow Americans have used to try to unite it.
In his Farewell Address, Washington warns us against the "mischiefs of the spirit of party." In his First Inaugural, Jefferson says, "We are all Republicans; we are all Federalists." "We are not enemies, but friends. We must not be enemies," says Lincoln. And closer to our own time, Kennedy reminds us that "civility is not a sign of weakness."
My table of contents appears below. How have I done? What did I miss? What should I have cut? It's your book. Let me know.
Genesis
The Exodus Story

John Winthrop, "A Model of Christian Charity" (1630)

Thomas Paine, "Common Sense" (1776)

The Declaration of Independence (1776)

Noah Webster, "The Blue-Back Speller" (1783)
Law
The Constitution (1787)

Brown v. Board of Education (1954)

Roe v. Wade (1973)
Chronicles
Harriet Beecher Stowe, "Uncle Tom's Cabin" (1852)

Mark Twain, "Adventures of Huckleberry Finn" (1884)

Ayn Rand, "Atlas Shrugged" (1957)
Psalms
Francis Scott Key, "The Star-Spangled Banner" (1814)

Irving Berlin, "God Bless America" (1938)

Woody Guthrie, "This Land Is Your Land" (1940)
Proverbs
Benjamin Franklin, "Remember that time is money" (1748)

Benjamin Franklin, "God helps those who help themselves" (1758)

Patrick Henry, "Give me liberty or give me death" (1775)

Abigail Adams, "Remember the ladies" (1776)

Sojourner Truth, "Ain't I a woman?" (1851)

Abraham Lincoln, "With malice toward none, with charity for all" (1865)

Chief Joseph, "I will fight no more forever" (1877)

Calvin Coolidge, "The business of America is business" (1925)

Franklin Delano Roosevelt, "I pledge you, I pledge myself, to a new deal for the American people" (1932)

John F. Kennedy "Ask not what your country can do for you — ask what you can do for your country" (1961)

Ronald Reagan, "Evil empire" (1983)
Prophets
Henry David Thoreau, "Civil Disobedience" (1849)

Dwight Eisenhower, Farewell Address (1961)

Martin Luther King Jr., "I Have a Dream" (1963)

Malcolm X, "The Autobiography of Malcolm X" (1965)
Lamentations
Abraham Lincoln, Gettysburg Address (1863)

Maya Lin, Vietnam Veterans Memorial (1982)
Gospels
Thomas Jefferson, First Inaugural Address (1801)

Franklin Delano Roosevelt, First Inaugural Address (1933)

Ronald Reagan, "The Speech" (1964)

Acts
The Pledge of Allegiance (1892, 1954)
Epistles
George Washington, Farewell Address (1796)

Thomas Jefferson, "Letter to the Danbury Baptists" (1802)

Martin Luther King Jr., "Letter from Birmingham Jail" (1963)
The opinions expressed in this commentary are solely those of Stephen Prothero.