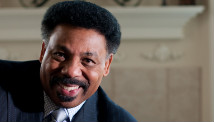 Editor's Note: This article was adapted from "Kingdom Man" by Dr. Tony Evans, Senior Pastor of Oak Cliff Bible Fellowship in Dallas and president of The Urban Alternative.
By Tony Evans, Special to CNN
(CNN)–All I had ever known up until I was 10 years old was chaos in my home.
I was the oldest of four children and the atmosphere was volatile for all of us. My father and mother were in constant conflict, making divorce seem like the only possible outcome.
Having married young, they were still trying to figure out how to make life work. They often argued about how to handle finances, especially when there was little money to go around.
I could have ended up a casualty of a broken family, like so many of the kids around me in inner city Baltimore. But my life was forever changed the year I turned 10.