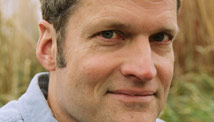 Editor's Note: Stephen Prothero, a Boston University religion scholar and author of "The American Bible: How Our Words Unite, Divide, and Define a Nation," is a regular CNN Belief Blog contributor.
By Stephen Prothero, Special to CNN
When I first started studying Asian religions in the United States in graduate school, I assumed that the story of Asian immigration was a story of the arrival and adaptation of Hinduism, Buddhism and other Asian religions.
And so it is. But the broader story is much more complicated and intriguing.
Although Vietnam is a Buddhist stronghold, many Vietnamese immigrants are Catholics. And many Korean immigrants are evangelical Christians. So immigration from Asia is transforming Christianity in the United States as well as Buddhism and Hinduism.
"The Rise of Asian Americans," a study released on Tuesday by the Pew Research Center, got a lot of press for finding that new Asian immigrants now outnumber new Hispanic immigrants.
This study also informed us that Asian Americans are wealthier and more highly educated than the U.S. population as a whole, and more likely to identify with the Democratic Party. So some of the chatter about the Hispanic vote in the upcoming election is rightly giving way to discussion of the Asian-American vote.
But what grabbed my attention in this report were its numbers on the religious affiliations of Asian Americans, who now make up 6% of the U.S. population.
Some of these groups conform to the assumptions of my graduate school days. For example, about half of Indian Americans self-identify as Hindus, and a plurality of Vietnamese Americans call themselves Buddhists.
But most Korean Americans are Protestants and most Filipino Americans are Catholics. A plurality of Japanese Americans (38%) are Christians but 32% are unaffiliated and 25% are Buddhists.
In fact, a buried story here seems to be how Asian immigration may be fueling the rise of the "nones": people who are religiously unaffiliated.
Of all the Asian Americans surveyed by Pew, 26% are unaffiliated, 22% are Protestant, 19% are Catholic, 14% are Buddhist, 10% are Hindu, 4% are Muslim and 1% are Sikh. And when asked whether religion is very important in their lives, only 39% of Asian Americans say yes, well below the 58% figure for the U.S. public as a whole.
Sociologists of religion have observed that immigrants often become more religious after arriving in the United States. So it could be that Chinese Americans, who are roughly half unaffiliated, will become more Christian or more Buddhist over time. But for now it seems that Asian immigration is doing more than making America wealthier, more educated, and more liberal.
It may also be making the United States less religious.
The opinions expressed in this commentary are solely those of Stephen Prothero.