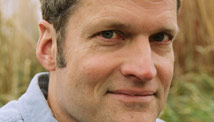 Editor's Note: Stephen Prothero, a Boston University religion scholar and author of "The American Bible: How Our Words Unite, Divide, and Define a Nation," is a regular CNN Belief Blog contributor.
By Stephen Prothero, Special to CNN
When I first saw the Library of Congress' new list of the 88 "Books That Shaped America," it looked to me like it was drawn up by the professors who taught me American studies in the 1970s and 1980s.
Unlike E.D. Hirsch's book "Cultural Literacy," which emphasized the work of dead white men, the Library of Congress' list is admirably inclusive. It includes books by or about various "outsider" groups, from native Americans to gays and lesbians. It attends to the problem of class via Jacob Riis' "How the Other Half Lives" (not to mention F. Scott Fitzgerald's "The Great Gatsby," which is also about class).
It also tips its cap to the environmental movement (Rachel Carson's "Silent Spring"), the feminist movement ("Our Bodies, Ourselves") and the sexual revolution (Kinsey's "Sexual Behavior in the American Male").
Moreover, African-Americans are actually over-represented here. Of the 88 books, roughly a dozen are by African-Americans, and another half-dozen or so are about them.
The Library of Congress list also includes lowbrow literature alongside the serious novels you might find in the "Harvard Classics" anthology, most notably children's books from "The Cat in the Hat" and "Goodnight Moon" to "Little Women" and "Where the Wild Things Are."
But this list also seems to have the same blind spot that many of my American studies professors had: religion.
Of all the books that shaped the United States, the Bible surely had the most impact. No book has sold more copies here or influenced more Americans more profoundly. But perhaps this book lost out on a technicality: the desire of the Library of Congress to restrict itself to books by Americans.
If so, where are the words of America's ministers and theologians? Time magazine, another mover and shaper of American culture, has featured dozens of Catholics on its cover, as well as Russian and Greek Orthodox clerics, Mormon and Jewish leaders, the Maharishi (of Transcendental Meditation fame), the Dalai Lama and preachers from Billy Graham and Reinhold Niebuhr to Martin Luther King Jr. and Jerry Falwell.
But these voices are curiously absent from the Library of Congress list, which devotes more space to scientists and science (Carl Sagan, anyone?) than to preachers and religion.
To be fair, the Library of Congress list is by no means absent of religious voices. Two of its autobiographical works, "Narrative of the Life of Frederick Douglass" and "The Autobiography of Malcolm X," are shot through with religion, as is Harriet Beecher Stowe's anti-slavery novel, "Uncle Tom's Cabin."
A slave spiritual starts each chapter in W.E.B. DuBois' "Souls of Black Folk," which also includes a chapter on the history of the black church and appears on the new list. Two early schoolbooks, "A Curious Hieroglyphick Bible" and "The New England Primer," which do nearly as much preaching as educating, also make the cut. And "Walden" by Henry David Thoreau is the mother of today's "spiritual but not religious" bestsellers.
Nonetheless, to read the Library of Congress list is to be presented with an America that produces lots of great novels and good science but is largely indifferent even to bad religion. And that just isn't the America in which we live. To put it another way, this list is providing more fodder for those on the religious right who believe that elites in the academy are tone-deaf to questions of faith and belief.
In my own effort at canon-making, "The American Bible," I included a number of books that also made the cut at the Library of Congress: Twain's "Adventures of Huckleberry Finn," Ayn Rand's "Atlas Shrugged," Thomas Paine's "Common Sense" and Noah Webster's "Grammatical Institute of the English Language" (more popularly known as the "Blue-Backed Speller"), along with "Uncle Tom's Cabin" and "The Autobiography of Malcolm X."
In my case, however, I made room not only for books but also for speeches, sermons, letters, essays, songs and even a memorial (the Vietnam Veterans Memorial by Maya Lin).
If I had restricted myself to books, I would have added at least two of the classics tapped by the Library of Congress: John Steinbeck's Depression-era novel "The Grapes of Wrath" and Betty Freidan's feminst classic "The Feminine Mystique." But I would have found a way to work in some ministers and theologians, too.
More than any other thinker, 20th-century Christian theologian Niebuhr has shaped the worldview of Barack Obama. Surely Niebuhr deserves a place here, as does King, who also had something to do with the election of America's first black president.
And while we are at it, how about the Book of Mormon? Surely that book, America's most influential homegrown scripture, played a major role in shaping the man who would be America's first Mormon president, Mitt Romney.
The opinions expressed in this commentary are solely those of Stephen Prothero.