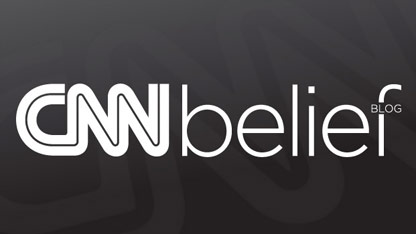 By Laura Koran, CNN
Here's the Belief Blog's morning rundown of the top faith-angle stories from around the United States and around the world. Click the headlines for the full stories.
From the Blog:
CNN: Ex-Scientologist: Cruise was top church recruit
For the secretive Church of Scientology, "there was no bigger recruit than Tom Cruise." The top Hollywood actor's membership in the Church beginning in 1986 "was huge," says Karen Pressley – a former Commanding Officer of the Church's Celebrity Centre in Hollywood from 1987 to 1989. "My job was to ensure that celebrities were recruited, that celebrities were well serviced within our organization, and also to open up new celebrity centers around the world," she told CNN's Kareen Wynter.
CNN: Episcopal Church approves same-sex blessing service
Episcopal priests will be allowed to conduct services blessing same-sex relationships under a policy approved Tuesday at the church's national convention in Indianapolis. The convention's House of Bishops approved the provisional policy 111-41 with three abstentions Monday, clearing it for consideration by the House of Deputies, which approved it Tuesday evening.
CNN: Militant Islamist groups destroy shrines in Mali
Members of two Islamist militant groups destroyed tombs at a shrine to Muslim saints Tuesday, according to the mayor of Timbuktu, Mali, and other residents. "The Islamists ordered the people to leave the area before they started smashing the tombs," Mayor Ousmane Halle said. "I saw both members of Ansar Dine and MUJAO, another Islamic faction in charge of the city. They were heavily armed and people had no choice but to leave when they started destroying the shrines."
CNN: 8 religious wonders to see in the U.S.
People visit Jerusalem for the rich history, interwoven religious narratives and crumbling holy walls. They visit Europe for ornate churches with painted ceilings and golden trim. They visit India for peace of mind, finding serenity in its carved and colorful temples scattered along the sacred Ganges River. But people rarely travel the U.S. in search of such sanctuaries. After all, what religious wisdom could America, a country still in its youth at 236 years old, have to offer?
CNN: Study: Muslim extremists not looking for world domination
Muslim extremists are more concerned with defending against foreign intrusion than foisting Islam on the world, according to a new study of extremist texts. The study suggests that a Western approach of claiming extremists are seeking world domination is misdirected, and instead should seek to counteract claims of victimhood.
Tweets of the Day:
[tweet https://twitter.com/pewforum/status/222743154095435776%5D
[tweet https://twitter.com/HuffPostRelig/status/222839936972365824%5D
Belief on TV:
Enlightening Reads:
Religion Dispatches: Caste First, Christ Second, for Some Indian Christians
John Yesunatha Das describes himself as buffalo color. His dark skin makes him recognizable as a Dalit, or untouchable, in India, and it's caused the Pentecostal pastor trouble over the years. His seminary, for instance, didn't consider him for positions upon graduation, even though, as he says, "I was one of the brilliant students" and would be in leadership right now if it weren't for his caste.
The New York Times: Spreading the Faith Where Faith Itself Is Suspect
The Rev. Peter Liu Yongbin, a wireless microphone tethered to his head, gazed out over his prospective converts and plowed into the ABCs of Roman Catholic faith. He offered a roughly abridged version of Abraham's family tree, the benefits of frequent confession and a quick guide to church hierarchy. "Think of the pope as equivalent to the minister of a government bureaucracy," he explained.
The Hindu: Dalai Lama speaks of dilemma on spreading self-immolations
The exiled Tibetan spiritual leader the Dalai Lama has said it is best for him "to remain neutral" on the issue of more than 40 Tibetans setting themselves on fire in the Tibetan areas of China over the past year, amid allegations by Beijing of a plot and concerns among some Tibetans about the spreading protests. In his most detailed comments yet on the protests, which have brought fresh security restrictions across many Tibetan areas in recent months, the Dalai Lama, in an interview with The Hindu, described the self-immolations as "a very, very delicate political issue."
Religion News Service: Bible museum planned for Washington, D.C.
A large-scale Bible museum will open in Washington, D.C., within four years, say planners who have been touring the world with portions of their collection. Cary Summers, chief operating officer of The Museum of the Bible, a nonprofit umbrella group for the collection of the billionaire Green family of Oklahoma, said they considered Washington, Dallas and New York but decided the nation's capital was the best location. The final name of the museum and its exact location have not been disclosed but planners hope to confirm a location later this summer.
Join the conversation…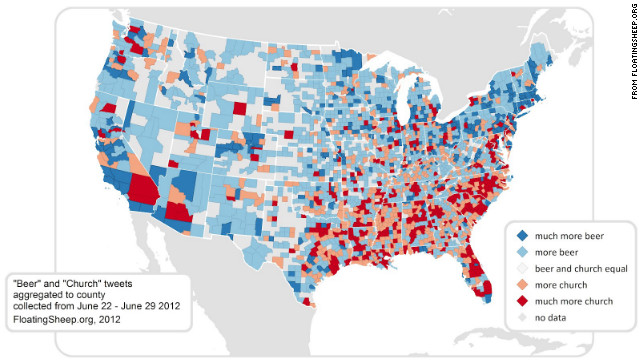 CNN: Study: People tweet more about church than beer
In an effort to look at cultural differences across the United States, a data analysis company selected two words that it felt exemplified an American cultural divide and analyzed their usage on Twitter. The words: "beer" and "church." And according to the study by Floatingsheep.org, Americans tweet more about church than beer, and there is a distinct regional divide between the tweets.