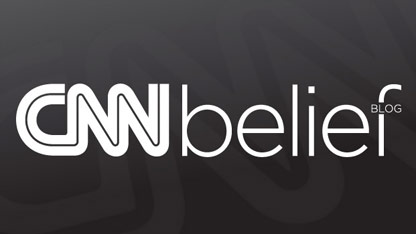 By Laura Koran, CNN
Here's the Belief Blog's morning rundown of the top faith-angle stories from around the United States and around the world. Click the headlines for the full stories.
From the Blog:
CNN: Unpacking report that Katie Holmes has rejoined Catholic Church
In the blizzard of reports surrounding Tom Cruise's recent split with Katie Holmes, this one stands out: After her years married to Scientologist Cruise, Holmes is said to be rejoining the Roman Catholic Church of her youth. A report from the Huffington Post with the decisive headline "Katie Holmes Returns to Catholic Church" has been rattling around the Internet since Monday. But the Internet newspaper cites a lone unnamed member of the church choir, who claims Holmes has registered as a parishioner of the Church of St. Francis Xavier in New York.
CNN: Pew survey: Middle East Muslims support democracy, Islam in politics
Just as an Islamist president takes office in Egypt, a major survey shows that most Muslims in nations in or close to the Middle East want both democracy and a strong role for Islam in politics and government. The survey, released Tuesday by the Pew Research Center, finds that most people in many predominantly Muslim nations remain optimistic that democracy can succeed in the Middle East, more than a year after the Arab Spring began sweeping across the Middle East and North Africa.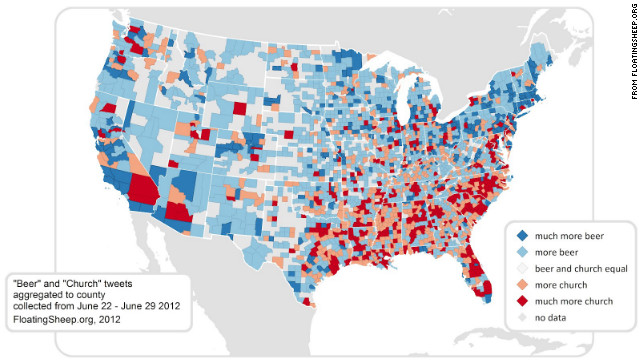 CNN: Your Take: Church and beer tweets study
Twitter isn't exactly scientific evidence, but it can produce conversation starters. Many readers registered a variety of responses to Dan Merica's recent story, about a study that said Americans tweeted more about church than beer. The study was conducted by Floatingsheep.org, looking at geotagged tweets with the words "church" or "beer" in them. Geotagging allows users of the social media site to indicate their precise location when they send a message.
Tweets of the Day:
[tweet https://twitter.com/mboorstein/status/223241853036793856%5D
[tweet https://twitter.com/TribSeeker/status/223033097459998720%5D
[tweet https://twitter.com/HuffPostRelig/status/223107217489014784%5D
Belief on TV:
Enlightening Reads:
The Chicago Tribune: Jews, Muslims show unity through bike ride
A group of Muslim and Jewish cyclists found common ground Sunday on Chicago pavement as they biked across the city from a downtown mosque to a North Side synagogue. "We have a lot more in common than we have differences," said Julie Hochstadter, at the end of the eight-mile bike ride organized by the Jewish-Muslim Community Building Initiative to bolster interfaith relations in Chicago.
The Bangkok Post: Taiwan to stage first same-sex Buddhist wedding
Two women plan to tie the knot next month in Taiwan's first same-sex Buddhist wedding, as gay and lesbian groups push to make the island the first society in Asia to legalise gay marriage. Fish Huang and her partner You Ya-ting, both 30, will receive their blessings from Master Shih Chao-hui at a Buddhist monastery in north Taiwan's Taoyuan county on August 11.
The Jewish Journal: They just want kosher Dodger Dogs
If kosher-observant L.A. Dodgers fans want to buy a hot dog at a game, they're out of luck: Dodger Stadium doesn't sell kosher hot dogs. Hoping to change that, a scrappy group of Dodgers season ticketholders is making every effort to get a concession to sell fresh kosher dogs at the stadium.
The Los Angeles Times: Scientology officials stayed out of Kate Holmes-Tom Cruise divorce
For all the talk about Scientology in the Kate Holmes-Tom Cruise divorce, a source with knowledge of the case said church officials played no role in the private negotiations that resulted in a settlement earlier this week. The source said Scientology officials played no active role in the negotiations among the lawyers. The settlement was reached among the lawyers and neither Holmes nor Cruise were in the meetings, the source added.
Quote of the Day:
Although I fully understand the authoritative role of the Catholic hierarchy in defining the teachings of the faith, in my view only a person who is willing to abandon her own reason and judgment, or who is willing to go against the dictates of her own conscience, can agree to sign such a document.
George Mason University history professor Rosemarie Zagarri wrote in a letter to Arlington Bishop Paul Loverde. Zagarri resigned from her post as a Sunday school teacher at her Virginia parish after receiving a letter asking her to sign a fidelity oath agreeing to submit "of will and intellect" to the Catholic church's position on all matters. Read the full Washington Post story here.
Join the conversation…
CNN: Ex-Scientologist: Cruise was top church recruit
For the secretive Church of Scientology, "there was no bigger recruit than Tom Cruise." The top Hollywood actor's membership in the Church beginning in 1986 "was huge," says Karen Pressley – a former Commanding Officer of the Church's Celebrity Centre in Hollywood from 1987 to 1989. "My job was to ensure that celebrities were recruited, that celebrities were well serviced within our organization, and also to open up new celebrity centers around the world," she told CNN's Kareen Wynter.