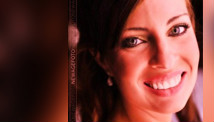 Editor's Note: Reba Riley is a graduate of 15,000 hours of Christian education, the Focus on the Family Institute and the Ohio State University. When she isn't selling construction materials for a living, she's writing a reverently irreverent memoir about Thirty by Thirty: 365 Days. 30 Religions. 1 Chance to Recover Faith by 30.
By Reba Riley, CNN
(CNN)–At 20, while studying for Christian ministry, I became a victim of "post-traumatic church syndrome."
The how isn't as important as the what: My soul had grown obese with doubt, and I could no longer squeeze into my religion. Like every good Evangelical Poster Child, I had been raised with Believe-It-All theology (lest God spit me out of His mouth in disgust!), so when I chose to Believe-It-None I became God's holy puke.
When faith is your whole identity, rejecting it is not unlike swan-diving into a bed of nails. It's spiritual suicide; you'll be forced attend a thousand little funerals for your shattered self, each worse than the last.
The pain is so brutal, so intense, that it's easier to tell yourself lies: Faith isn't important; I don't need God; I can partition off my soul with demolition tape and tip-toe around the condemned site forever.
Except that eventually? I couldn't play pretend.
At 29, I realized with utter horror that I yearned to be "someone who believed." In what, I had no idea.  But suddenly the what was not as important as the how: how could I possibly find faith when merely attending church incited flashbacks, weeping, puking and (once) hives?
CNN's Belief Blog: The faith angles behind the big stories
Well. I did what any damaged psychology grad would do; I decided to treat myself with spiritual shock therapy! Yes! I would go to 30 places of worship before my 30th birthday! I would fit this full-time quest into my already full-time life! (Brilliant, yes? Ahem).
I would rise; I would take faith by force; I would conquer! (Actually, before going all ticker-tape victory parade? I would also hurt. A lot. But I didn't know that then.) One week after my 29th birthday, I launched my project.
I channeled dead relatives with Christian Spiritualists, testified with Mormons, chanted Hare Krishna, feasted with the Amish, fasted for 30 days, and danced around fire to the beat of pagan drums. I sang hymns beside gays and next to folks who don't welcome gays in their pews.
I was damned to hell and told I was god. I raised my hands with Pentecostals and folded them with Catholics; I dressed for mosque and undressed (my feet) to enter the Sikh temple. I shouted with Baptists and was silent in Buddhist meditation. I met Quakers, hugged Jehovah's Witnesses and studied miracles under an Eastern Orthodox urban monk. And in the process I came alive again.
At 30, I am happy to report that I kicked Post-Traumatic Church Syndrome in the, um, teeth during my year of spiritual adventuring. Because I found its cure: freedom.  Freedom from thinking my journey had to fit into a box with a pre-printed label. Freedom from believing God would reject me if I didn't follow someone else's prescription for belief. Freedom to create a faith I could believe in.
But freedom ain't free, and I paid for mine with blood (poking pins, Hindu temple), sweat (five pounds lost, tribal sweat lodge) and tears (buckets, multiple church bathrooms).  Maybe my hard-won insights can help you cheat the system. Here are my top tips for freedom-finding:
Practice safe faith. Avoid emotionalism and religion-think. Use protection—that is, critical thinking– especially if you are a belief virgin. If you choose to bow/chant/pray, be sure you know why. And never let your why be "Just do it because you love me, baby."
Put away your passport. You don't have to leave your job, family or country to embark on a pilgrimage; global perspective shifts are available on the cheap, often within city limits.
Be not afraid. When you climb outside your religious comfort zone, fear will inevitably flare. And when it does? Get excited! You're about to make some serious spiritual progress.
Grab your tray. Seeking your Light resembles a cafeteria line more than a pre-fixed menu, so go ahead and order your faith a la carte.
Reject Rejection. There will always be those who believe their spiritual path is to knock you off yours. When they try to tackle you, simply smile, step over 'em and keep on walking.
Follow the CNN Belief Blog on Twitter
Before Thirty by Thirty, I thought of God and Truth as static words, written flatly in black and white. Now—having experienced so many sides of faith– I see a dynamic, three-dimensional reality: a sort of Divine Disco Ball spinning in the space between us, its infinite mirrors reflecting the light in each of our perspectives. No one can see the full picture of God because the reality is simply too large, but perhaps together our collective images of the Divine can combine to form something close. Something that looks like freedom.
The opinions expressed in this commentary are solely those of Reba Riley.