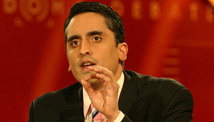 Editor's note: Arsalan Iftikhar is an international human rights lawyer, founder of TheMuslimGuy.com and author of the book "Islamic Pacifism: Global Muslims in the Post-Osama Era."
By Arsalan Iftikhar, Special to CNN
(CNN)–According to recent reports, a German court's ban on circumcising baby boys has provoked a rare show of unity between Jews, Muslims and Christians who see it as a threat to religious freedom, while doctors warn it could increase health risks by forcing the practice underground. This recent ruling has global media commentators on all sides of the political aisle debating whether this issue is an affront to religious freedom or a victory to protect the foreskins of young male babies around the world.
Several prominent writers, including Michael Gerson of the Washington Post, rightfully challenged this recent legal decision by a local German court in Cologne, which would effectively criminalize ritual circumcision for infant males as an exercise of religious freedom for minority religious communities in the country.
Gerson and others have been highlighting this most recent issue vis-à-vis Europe's infamous history of anti-Semitism, which has long been a sociopolitical stain of xenophobia across European lands.
However, it is quite interesting to note that most of these same commentators are not even adequately addressing the fact that the German case in question actually involved a Muslim family, not a Jewish one.
Basically, many of these commentators are citing a legal ruling against a Muslim family in Germany to fashion entire columns devoted to prejudice vis-a-vis the Jewish community, with barely a reference to the original case involving Muslims or rising tide of Islamophobia in Europe, which exists alongside anti-Semitism on the spectrum of xenophobia and must be eradicated.
CNN's Belief Blog: The faith angles behind the big stories
Even German Chancellor Angela Merkel ignored the Muslim origins of this controversy when she recently told her party members that Germany risked becoming a "laughingstock" and that her country should not be "the only country in the world in which Jews cannot practice their [religious] rites".
This entire meta-narrative is even more perplexing since most estimates find that Germany is home to approximately 120,000 Jews and more than 4 million Muslims.
On the other side of the Germany circumcision debate, noted journalist Andrew Sullivan recently wrote about the topic and asked, "[Can] parents permanently mutilate a child's genitals to pursue their own religious goals?"
Although Sullivan clearly states that he "veers on the side of permissiveness" in this case in Germany, he does anchor his position on the belief that the religious practice of infant circumcision is tantamount to male genital mutilation. "At some point, one can only hope this barbarism disappears," writes Sullivan. "And it will have nothing to do with anti-Semitism or Islamophobia; it will be about defending the religious liberty of Jewish and Muslim male [babies] to choose their religion, and not have it permanently marked as scar tissue on their [genitals]."
Although I usually agree with much of his writing on most subjects, I would be curious to see if  Sullivan would also consider parents who pierce the ears of their baby daughters to be committing "earlobe mutilation"?
Probably not.
Having said that, this is yet another instance of a "teachable moment" where Jews, Muslims and people of all faiths (or no faith) can unite to promote religious freedom for all people around the world. Since we tend to live in tribalistic circles where Muslim people tend to focus only on Islamophobia and Jewish people tend to focus only on anti-Semitism, we need to instill a new culture where Jewish people speak against Islamophobia and Muslim people speak against anti-Semitism across the globe.
Similarly, as an international human rights lawyer, it would behoove me to highlight the importance for the global community to protect the legal and political rights of all religious minorities in every part of the world.
In the case of the German circumcision ban, people of conscience should stand with both Muslim and Jewish communities in Germany to help ensure that anti-Semitism and Islamophobia are equally challenged, especially since we are seeing right-wing xenophobic political parties continue to rise to prominence in many part of the European Union.
Similarly, we should also speak up for disenfranchised religious minorities in other parts of the world, whether it is Coptic Christians in Egypt, the Baha'i community in Iran, the Rohingya Muslims in Burma (now known as Myanmar) or the Ahmadiyya community in Pakistan.
Follow the CNN Belief Blog on Twitter
Even though we do not yet live in a world where many Jewish and Muslim people agree on many geopolitical matters, the concept of  religious freedom should be something that people of all faiths (or no faith) should be able to agree upon wholesale.
Article 18 of the Universal Declaration of Human Rights clearly states that, "Everyone has the right to freedom of thought, conscience and religion; this right includes freedom to change his religion or belief, and freedom, either alone or in community with others and in public or private, to manifest his religion or belief in teaching, practice, worship and observance."
Basically, at a time where the world seems to become even more polarized on a daily basis, this latest Germany circumcision debate should be used by Jewish, Christian and Muslim communities to stand in solidarity and unite in an essence of true Abrahamic camaraderie, regardless of whether we are circumcised or not.
The opinions expressed in this commentary are solely those of Arsalan Iftikhar.