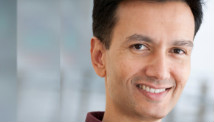 Editor's Note: Shafath Syed is a Silicon Valley entrepreneur and marketing consultant. He runs muslimgoodnews.com. Follow him on Twitter @shafath.
By Shafath Syed, Special to CNN
(CNN) - As our family has been getting ready for Ramadan and I look at my daughter I'm reminded of our Hajj trip and how it completed our family. I didn't fully realize the impact that Hajj would have on our family's life. It not only gave us a spiritual awakening but also brought a child, our child, into our lives. For Muslims, the chance to perform Hajj, the pilgrimage to Mecca, is one of the greatest expressions of our faith.
There are three facets of my life that make me who I am. I'm an American by nationality, a Muslim by faith and an Indian by culture. Faith has always been an important part of my life. It comes from my parents, who exposed me to faith not just with education, but also in practice. For as long as I can remember, they were involved in the Muslim community and even helped to establish our local mosque.