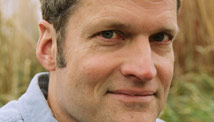 Editor's Note: Stephen Prothero, a Boston University religion scholar and author of "The American Bible: How Our Words Unite, Divide, and Define a Nation," is a regular CNN Belief Blog contributor.
By Stephen Prothero, Special to CNN
Before I comment on a new survey on religion and the presidency, I want to say one thing: Barack Obama is not a Muslim. The U.S. president does not observe the Five Pillars of Islam. He does not worship in a mosque. He does not call himself a Muslim.
Why not? BECAUSE HE IS NOT A MUSLIM!
Also, Mitt Romney is not a Hindu. He does not believe in reincarnation. He does not worship the Hindu god Shiva. He does not self-identify as a Hindu. Why not? BECAUSE HE IS NOT A HINDU!
I say this, and I do so in capital letters with exclamation points, because of a survey released Thursday by the Pew Forum on Religion & Public Life regarding voter perceptions of the religious beliefs of Barack Obama and Mitt Romney.
The people at Pew wanted to see how the candidates' religions are affecting voters' views of them. But it is hard to hold Romney's Mormonism either for or against him if you don't even know he is a Mormon. And according to Pew, only 60% of Americans do know that.
Meanwhile, one out of every six Americans (17%) continues to believe that Barack Obama is a Muslim, and of that group, two out of three (65%) are uncomfortable with his faith. Though, of course, they are not actually uncomfortable with his faith, because, as I have said: Barack Obama is not a Muslim.
If this is starting to sound like a rant, perhaps that's because it is. For years, I have been lamenting the religious ignorance of the American public. In my book "Religious Literacy," I argued that the United States is one of the most religious countries on Earth, and yet Americans know very little about their own religions and even less about the religions of others.
According to the 2010 U.S. Religious Knowledge Survey, another Pew project, most Americans cannot name the four Gospels of Matthew, Mark, Luke and John. And while 82% can identify Mother Teresa as a Catholic, only 47% know that the Dalai Lama is a Buddhist.
You might imagine that this problem is going away, but it is actually getting worse. Despite the fact that Obama has talked repeatedly about his Christian faith in the years since he was elected president, most Americans (51%) do not even know that he is a Christian.
Moreover, 30% of Republicans now believe that Obama is Muslim, roughly double the figure from the 2008 campaign.
None of this would matter if religion remained private, something presidents and senators did on the weekends in their places of worship and at the supper table throughout the week. But religion is now an undeniably public concern.
Republicans and Democrats alike routinely bring religious reasons to bear on public policy questions, quoting the Good Samaritan story in debates on immigration policy and the Sermon on the Mount in conversations about marginal tax rates. And the overwhelming majority of Americans — 67%, according to Pew — continue to want their president to have strong religious beliefs.
When he was running for president in 1960, Jack Kennedy told the Greater Houston Ministerial Association, "I am not the Catholic candidate for president. I am the Democratic Party's candidate for president, who happens also to be a Catholic."
That sort of argument no longer washes in a public square saturated with religion. For better or for worse, Mitt Romney isn't just the Republican candidate for president. He is also the Mormon candidate. Or is he? If a Mormon runs for president and you vote for him without knowing that he is a Mormon, did you just vote for a Mormon president?
I used to believe that our epidemic of religious illiteracy was rooted in large part in a system of public education unwilling and unprepared to teach our young people about the Bible and the world's religions. I now see that much of the problem can be attributed to our partisan politics, more particularly the politicization of virtually every corner of our common life, including the facts.
According to today's Pew survey, 34% of conservative Republicans are now laboring under the misapprehension that Obama is a Muslim. This figure is up sharply from only 16% in 2008.
Where are they getting this disinformation? Obviously from people who have something to gain by it. And there is plenty to be gained by it. According to Pew, 82% of Americans who know Obama is a Christian are comfortable with his faith, versus only 26 percent of those who wrongly see him as a Muslim.
I see nothing wrong with a public square informed by religious reasons. From the beginning of our republic, religion and politics have been in conversation with one another. Church and state have never been strictly separated.
But there is something deeply troubling about the state of religion and politics in America today. And among those troubles is the cynical manipulation of religion for political gain - the use of God as a pawn in our political projects.
One solution to this problem is religious literacy. If "we the people" know more about the Bible, politicians will be less likely to quote from it haphazardly or to draw bogus conclusions from its words.
The same goes for Mormonism or Islam or Hinduism. If we know more about these religious traditions, there will be fewer opportunities for politicians to use disinformation about them to draw us toward one candidate or scare us away from another.
I have no problem with voters who care about the religious faith of their presidential candidates. But if religion is so darn important to our public life, can't we at least make a modest effort to learn something about it?
If so, let's start with these two indisputable facts: Mitt Romney is a Mormon. And Barack Obama is not a Muslim.
The opinions expressed in this commentary are solely those of Stephen Prothero.