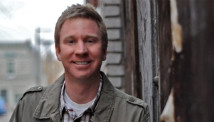 Editor's note: Rob Brendle is the founding pastor of Denver United Church, a former associate pastor at New Life Church in Colorado Springs, and the author of "In the Meantime: The Practice of Proactive Waiting."
By Rob Brendle, Special to CNN
I held her hand as she died.
Her family had come to a church where I was pastoring that morning, a routine Sunday. A thousand things would never have crossed their minds as they drove through Colorado Springs toward New Life Church's enormous concrete worship center - including the prospect of being assaulted in their minivan by a young man with a high-powered rifle.
Later that day, we were all at a local hospital. The girl whose hand I held, Rachel, had already lost a sister at the scene. Her father was down the hall in critical condition and her mother was coming undone in the waiting room, but she didn't know any of it. Rachel lay unconscious for a couple of hours more in the ICU.