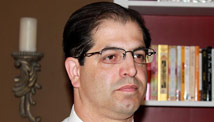 Editor's Note: This piece was originally published in 2011. Daoud Abudiab is president of the Islamic Center of Columbia, Tennessee, where he works as an administrator for a physicians' group.
By Daoud Abudiab, Special to CNN
Last year, my son and I attended the White House conference on bullying prevention. We heard stories of people being bullied for being black, gay, lesbian and Sikh. The stories were compelling and left me more critical of our culture, in which it is popular to act in ways that dishonor our traditions.
Some of my friends were interested in the details of my Washington trip. I commented on the diversity at the White House event. A friend made a joke about the composition of attendees reflecting a typical Democratic Party gathering.
I thought of it as a typical American gathering. But I have become aware that not all Americans honor my American citizenship.
Read: Missouri mosque destroyed in fire
In some circles, my Muslim faith is not even accepted as a religion.
And Muslims everywhere are feeling increasingly less welcome in America. We see our kids bullied in schools over their faith and our daughters, wives and mothers picked on and ridiculed for wearing hijab, the Muslim headscarf.
Mosques  across America have been vandalized in recent years. Mine was one of them.
In 2001, I was excited to be among the founders of the Islamic Center of Columbia in central Tennessee.
We are a small Muslim community in a small town. Our families felt welcome, and we were positively featured in the local newspaper on a couple of occasions.
But in February 2008, the Islamic Center of Columbia was destroyed in a fire. A year later, three young men from Columbia were sentenced to prison terms of 6 to 14 years for hate crimes against our house of worship.
According to the federal complaint against them, the fire they set was at least partially inspired by the Bible. "What goes on in that building is illegal according to the Bible," one of them told authorities afterward, referring to our mosque.
The men belonged to the Christian Identity Movement, according to the federal complaint, and said the arson gained them honor among the group's other members.
According to the Southern Poverty Law Center, the right-wing movement is "nominally Christian" but has little in common with even the "most conservative of American Protestants."
After the fire, many Christians supported us. The pastor at First Presbyterian Church of Columbia, Bill Williamson, invited my congregation to pray at his church until we found a new home.
In November 2008, at the opening ceremony for our new location, I handed Bill back the key to his house of worship. We remain friends and share our story of love and compassion for one another any time we get the chance.
There were other Christians who did not act very Jesus-like after the mosque fire.
When my son countered middle school tormenters who called him a terrorist by telling about the burning of mosque, one response was "that's OK, because you are in our country and we can do that to you."
One local Christian pastor, meanwhile, publicly criticized First Presbyterian Church for sharing its space with my congregation, arguing that Muslims worship a different God than Christians.
People like that often claim superiority to Muslims, but they don't walk the walk.
Last year, I shared a stage at Martin Methodist College in Pulaski, Tennessee with Robert Montgomery, a Pulaski pastor who I met through Bill Williamson.
We discussed the journey that led to our friendship. He claims to have become a better Christian as a result of the non-Christian friends he has known over the years. I know that's true for me as a Muslim.
There is nothing to fear or compromise in such a friendship and everything to gain.
When I articulate my faith to someone who does not share it, I feel accountable. It is uncomfortable to be a hypocrite, or at least it should be.
Let me say to non-Muslim Americans: I do not want to convert you. I simply ask that you be true to who you say you are. Let us all honor the best of our traditions.
The opinions expressed in this commentary are solely those of Daoud Abudiab.