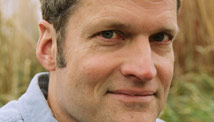 Editor's note: Stephen Prothero, a Boston University religion scholar and author of "The American Bible: How Our Words Unite, Divide, and Define a Nation," is a regular CNN Belief Blog contributor.
By Stephen Prothero, Special to CNN
A lot has been written about the "Mormon moment" in American politics. But the election of 2012 is starting to shape up as a "Catholic moment," too.
Now that Mitt Romney has tapped the former altar boy (and Rep.) Paul Ryan as his vice-presidential running mate, there will be a Catholic on both major party tickets for the first time in U.S. history.
So as Ryan and Vice President Joe Biden articulate their views, we will be tuning into an intra-Catholic conversation pitting "social justice" Christians on the left versus "family values" Christians on the right.
Because this election will doubtless focus on the economy, and because Ryan is known primarily as the author of a budget passed this year in the Republican-controlled House, this debate will not focus primarily on social questions such as abortion and same-sex marriage but on economic concerns such as tax policy and the safety net. What would Jesus do about our debt and the deficit?
In a preview of the debates to come, Catholic bishops wrote four letters to Congress in April attacking the Ryan budget as unjust and calling for "a circle of protection ... around essential programs that serve poor and vulnerable people."
These letters, signed by leaders of the U.S. Conference of Catholic Bishops, articulated general principles of Catholic social teaching. "A central moral measure of any budget proposal is how it affects 'the least of these' (Matthew 25)," wrote Bishop Stephen Blaire of Stockton, California. "The needs of those who are hungry and homeless, without work or in poverty should come first."
Another letter, co-signed by Blaire and Bishop Richard Pates of Des Moines, Iowa, argued that "the needs of those who are hungry, poor and vulnerable should come before assistance to those who are relatively well off and powerful" and spoke of drawing a "circle of protection" around the "poor and vulnerable."
But America's bishops also took aim at specific policy proposals, including cuts to affordable housing programs, cuts in food stamps and changes to the Child Tax Credit.
Blaire insisted that "just solutions" to our budget problems "must require shared sacrifice by all, including raising adequate revenues, eliminating unnecessary military and other spending, and fairly addressing the long-term costs of health insurance and retirement programs," before concluding that the Ryan budget "fails to meet these moral criteria."
To his credit, Ryan responded to these letters not just with canned talking points but with a fairly detailed defense of his understanding of Catholic social thought.
In an April interview with David Brody, Ryan admitted that the "preferential option for the poor" was "one of the primary tenets of Catholic social teaching." But he insisted this idea "means don't keep people poor, don't make people dependent on government so that they stay stuck at their station in life; help people get out of poverty, out into a life of independence."
A year earlier, in a letter to Archbishop Timothy Dolan of New York, Ryan said his budget was informed by the Catholic principle of "subsidiarity," which he equated with "federalism," and more particularly with the practice of addressing social problems with local rather than national solutions.
Lots of things changed when Romney tapped Ryan as his vice-presidential pick. Among those things is the religious dynamic of the 2012 election. We have in Romney/Ryan what is arguably the first non-Protestant ticket in U.S. history.
And in the vice-presidential tussle between Ryan and Biden we have the promise of a civil and informed debate about Christian values and economic policy.
For far too long, politicians have been able to name check God or point vaguely to the Bible to gain the imprimatur of heaven for their particular policies or their political party. That sort of "God on our side" politics has been bad for both our religious and our public life.
But substantive debates about Christianity and politics are potentially healthy for both.
A century and a half ago, Americans engaged in a collective conversation about the Bible and slavery that was both civil and informed. Is it too much to hope that an intelligent debate about Christianity and the economy is now in the offing? If so, we will likely have Ryan (and Romney) to thank.
The opinions expressed in this commentary are solely those of Stephen Prothero.