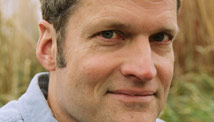 Editor's note: Stephen Prothero, a Boston University religion scholar and author of "The American Bible: How Our Words Unite, Divide, and Define a Nation," is a regular CNN Belief Blog contributor.
By Stephen Prothero, Special to CNN
There has been a lot of conversation in recent years about the rise of racial and ethnic minorities in America. Census figures show that there are more minority births than white births, and the United States is on schedule to become a white-minority country by 2050 or so.
A parallel story is playing itself out in religion, where Protestants, who have traditionally predominated in the United States, now constitute a little more than half of American adults. But the story of the decline of the Protestant establishment is particularly stark in U.S. public life, where Protestant leaders are giving way to Catholics and Jews, Buddhists and Mormons.
Take the 2012 presidential election, which features in Mitt Romney and Paul Ryan, the first non-Protestant ticket in recent U.S. history. Or the U.S. Supreme Court, which now boasts six Catholics, three Jews and zero Protestants.
The 112th U.S. Congress remains solidly Protestant, accounting for 56.8% of the members of the House and the Senate, according to the Pew Forum on Religion & Public Life.
But the hallowed halls of Congress are changing fast. There are now both Buddhists and Muslims in Congress. And Catholics, Jews and Mormons are better represented there than they are in the U.S. population as a whole.
When it comes to religion and politics, things were simpler when Protestants ran the show. To speak of "values" during a presidential campaign or a congressional debate was to speak of Protestant "values." And to reckon with "religion" in the Supreme Court was to reckon with "religion" as Protestants have seen it.
Throughout U.S. history, "strict separationists" have tried to erect what Thomas Jefferson famously referred to as a "wall of separation" between church and state. For better or for worse, they have failed. Religion and politics mix and mingle nowadays, not least in our political campaigns. But making sense of that volatile mix is getting harder as more and more religious perspectives make their way into our public space.
With the entry into the vice-presidential contest of Ryan, a Catholic and the architect of recent Republican budget proposals, Americans are turning their attention to Catholic social thought, weighing what bishops and nuns have to say about his proposals for lower taxes and cuts in entitlement programs.
So far, Romney has managed to sidestep the questions American voters will doubtless have about what it might mean to have a Mormon in the Oval Office.
On those rare occasions when he has spoken about his faith, he has attempted to underscore the ways in which Mormon values track evangelical Protestant values. But Mormons are not Protestants, so we cannot assume that his religious reflexes will in any way parallel those of Episcopalians such as President George H.W. Bush or Methodists such as President George W. Bush.
It is too early to pity the poor Protestants, but with a Mormon, two Catholics and just one Protestant (President Barack Obama) topping the tickets of the two major parties this fall, it is time to reassess what it means to call God and his values to our side in the rough and tumble of American politics. As our population becomes more religiously diverse, and our public square with it, we will increasingly be asking, "which God?" and "whose values?"
The opinions expressed in this commentary are solely those of Stephen Prothero.