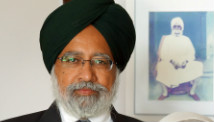 Editor's note: Ishwar Singh is the president of the Sikh Society of Central Florida and owns a small business called Industrial Scan, Inc.
By Ishwar Singh, Special to CNN
I am honored to be the first Sikh American in U.S. history to deliver the invocation at a national convention. On Wednesday, I will offer a prayer at the Republican National Convention from my Sikh faith.
The prayer calls upon the American public to join with us in recognition that we are one family. As an immigrant, a small-business owner and a father, I am humbled by the opportunity to address the nation. When I came to this country over 40 years ago, never in my wildest dreams did I imagine the honor of offering a prayer for the nation. My story is possible only in America.
My prayer will be an opportunity to share the spirit of the Sikh faith with the American people. The tenets of Sikhism - humility, equality, and justice - lie at the heart of the American ethic.