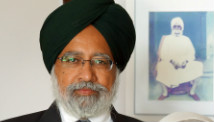 Editor's note: Ishwar Singh is the president of the Sikh Society of Central Florida and owns a small business called Industrial Scan, Inc.
By Ishwar Singh, Special to CNN
I am honored to be the first Sikh American in U.S. history to deliver the invocation at a national convention. On Wednesday, I will offer a prayer at the Republican National Convention from my Sikh faith.
The prayer calls upon the American public to join with us in recognition that we are one family. As an immigrant, a small-business owner and a father, I am humbled by the opportunity to address the nation. When I came to this country over 40 years ago, never in my wildest dreams did I imagine the honor of offering a prayer for the nation. My story is possible only in America.
My prayer will be an opportunity to share the spirit of the Sikh faith with the American people. The tenets of Sikhism - humility, equality, and justice - lie at the heart of the American ethic.
For more than 100 years, Sikhs have lived, worked, and worshipped in America as farmers, doctors, lawyers, engineers, entrepreneurs, artists and more. We see ourselves as part of one America. On Wednesday, I'll be honored to stand as a proud Sikh with my turban and beard as a fellow American.
Opinion: Is Sikh-led prayer at RNC a hollow gesture?
Unfortunately, the recent mass shooting of Sikhs in Oak Creek, Wisconsin, and attacks on mosques across the nation call us to recommit to a vision of unity.
These acts are just the most recent in a history of violence against our community. In the aftermath of the Iran hostage crisis, the first Gulf War, the Oklahoma City bombing, the terrorist attacks on September 11, 2001, subsequent wars, and the controversy over the so-called "ground zero mosque," Sikhs have been on the receiving end of hate.
Follow the CNN Belief Blog on Twitter
I hope that my presence Wednesday on the national stage will play a small part in helping Sikhs - and people of all races, faiths and orientations - be seen as part of the great American family. We Sikhs draw strength from the nonpartisan support we have received in response to the terrible tragedy in Oak Creek.
On the Republican side, Wisconsin Gov. Scott Walker, Rep. Paul Ryan, and now the Republican National Committee have extended a hand of friendship. On the Democrats' side, President Obama ordered flags flown at half-staff and Attorney General Eric Holder and first lady Michelle Obama have visited Oak Creek to mourn with us and express their support.
CNN's Belief Blog: The faith angles behind the biggest stories
After Wednesday, I hope that we will see more engagement and inclusion. I hope our elected officials will stand against hateful speech this election season. I hope that the government tracks hate crimes specifically against Sikhs and that Sikhs will be considered eligible to serve this country, as we have served so many others, in the police and armed forces.
I hope that our children and grandchildren will be permitted to be full and equal members of this great American family. As our first teacher, Guru Nanak, and the founders of our faith taught us: I see no stranger.
The opinions expressed in this commentary are solely those of Ishwar Singh.