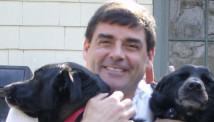 Editor's note: Michael Sean Winters writes the blog "Distinctly Catholic" for the National Catholic Reporter and is the author of "God's Right Hand: How Jerry Falwell Made God a Republican and Baptized the American Right."
By Michael Sean Winters, Special to CNN
Four years ago, anti-abortion Sen. Robert Casey addressed the Democratic National Convention.
"Barack Obama and I have an honest disagreement on the issue of abortion," he said. "But the fact that I am speaking here tonight is testament to Barack's ability to show respect to the views of people who may disagree with him… he'll pursue the common good by seeking common ground rather than trying to divide us."
The next day, speaking to fellow anti-abortion Democrats, we all admitted we had been moved to tears by Casey's speech.
As candidate and as president, Obama promised he would try and heal the culture wars.
"Let's honor the conscience of those who disagree with abortion and draft a sensible conscience clause," he said in 2009 at the University of Notre Dame, a Catholic university, "and make sure that all of our health care policies are grounded not only in sound science, but also in clear ethics, as well as respect for the equality of women."
Follow the CNN Belief Blog on Twitter
He retained the White House faith-based office President George W. Bush had created and even increased funding for religiously affiliated charities.
This week in Charlotte, Nancy Keenan, the president of NARAL Pro-Choice America, addressed the convention. Nearly all the politicians who spoke celebrated the party's commitment to legalized abortion, offering some of the biggest applause lines of the convention.
Anti-abortion Democrats were crying again, but they were not tears of pride.
It has been clear for some time that President Obama's campaign has concluded that they were never going to win the same levels of support among moderate, white, working class voters that propelled him to victory in 2008. Whereas in 2008, he was seen as a remedy for the bad economy, Obama is now seen as the cause, or at least not as the cure.
CNN's Belief Blog: The faith angles behind the biggest stories
So the president is re-litigating the culture wars he promised to salve in 2008. It's one way to keep the Democrats from having to talk about the 8.3% unemployment rate.
And, so while one expected the Republican Party to be engaged in the culture wars, instead it is the Democrats, feeding off President Obama's decision to bait-and- switch, that are stoking those wars.
Last November, President Obama met with Cardinal Timothy Dolan, president of the U.S. bishops' conference. Obama said that he understood the Catholic Church's concerns about a new White House contraception mandate that requires employers to provide no-cost contraception coverage to virtually all their employees. That includes those who work at church-run organizations like schools and hospitals.
Fixing this problem wouldn't have been difficult. Obama could have expanded the exemption and allowed women who work at Catholic institutions to get contraception coverage through the exchanges set up by the Affordable Care Act.
Instead, the president announced there would be no change in the conscience exemption.
What happened? Women's groups besieged the White House with complaints and the Obama campaign needed the fundraising support of pro-choice groups like Emily's List. And so, Obama picked a thoroughly unnecessary fight with the Catholic Church.
The HHS mandate was the straw that broke the Church camel's back.
But Obama's Justice Department had earlier entered a Supreme Court brief arguing that churches had no special protection in the hiring and firing of their pastors, only to have the Supreme Court unanimously reject their view.
Then Obama's Health and Human Services Department denied a grant to the bishops' conference program to help the victims of human trafficking because church agencies would not provide or promote contraception, even though the program got high marks from HHS staff.
This week's convention speeches are more evidence that Obama is still pursuing a strategy of exciting the base and suburban women and forgetting about culturally conservative Democrats.
"[The president] believes that women are more than capable of making our own choices about our bodies and our health care," first lady Michelle Obama said to thunderous applause.
It is possible the strategy will work.
For every culturally conservative Catholic voter Obama loses in western Pennsylvania, he may pick up the vote of an affluent, politically unaffiliated, nonchurch-going and decidedly pro-abortion rights woman in the Philadelphia suburbs. She might be in a position to write a check to his campaign as well.
And it's true that some Republican actions have made it easier for the Democrats to rally the pro-abortion rights faithful.
In the key swing state of Virginia, the Republican legislature and governor passed a law requiring women to undergo a transvaginal ultrasound before getting an abortion, leading many centrist voters to conclude that it is the Republicans, not the Democrats, who are extreme on abortion. In Congress, Republicans tried to cut funding for Planned Parenthood.
What may work for Obama, however, will prove disastrous for his party.
It is difficult to see how Democrats will ever reclaim the House unless they win back the seats once held by anti-abortion Democrats like Kathy Dahlkemper of Pennsylvania , Bart Stupak of Michigan and Steve Dreihaus of Ohio. All three of those seats went Republican after anti-abortion groups targeted them because of their vote in favor of health care reform.
Branding the party as rigidly pro-choice, and even refusing to include "big tent" language on abortion in the party platform, will not help Democrats reclaim the House, so we can all look forward to more culture wars in the future.
Abortion rights groups and the Obama campaign may have cut off their nose to spite their face by reigniting the culture wars. No one looks forward to four more years of squabbles between a GOP-led House and President Obama.
The opinions expressed in this commentary are solely those of Michael Sean Winters.