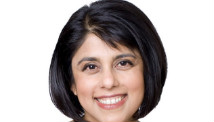 Editor's note: Sumbul Ali-Karamali is the author of "The Muslim Next Door: the Qur'an, the Media, and that Veil Thing, and Growing up Muslim: Understanding the Beliefs and Practices of Islam." She is on the steering committee of Women in Islamic Spirituality and Equality and is a member of the Muslim Women's Global Shura Council, both of which aim to promote women's rights and human rights from an Islamic perspective.
By Sumbul Ali-Karamali, Special to CNN
(CNN) – My father always told me never to talk about religion, politics, or other people's children. He was part of a generation of American Muslims who wanted to stay quiet and assimilate into American life and not rock the boat. Growing up in Southern California, I tried to follow his advice.
But after 9/11, I found that I, along with other American Muslims, have had little choice but to talk about religion.
Although countless Muslims have condemned the acts of 9/11 in the United States and worldwide, American Muslims became objects of suspicion.
Read the full Opinion piece on CNN In America