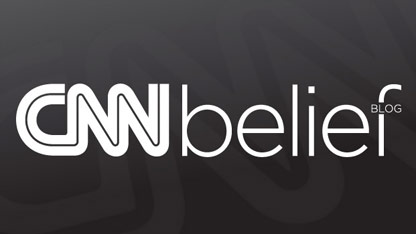 By Arielle Hawkins, CNN
Here's the Belief Blog's morning rundown of the top faith-angle stories from around the United States and around the world. Click the headlines for the full stories.
From the Blog: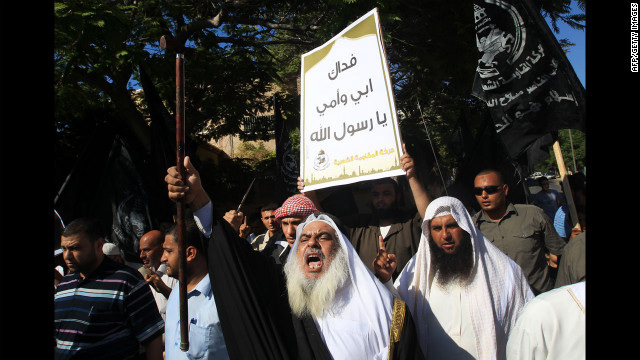 A Palestinian man holds a placard praising Islam's prophet Mohammed during a demonstration against the film on Wednesday in front of the United Nations headquarters in Gaza City.
CNN New details emerge of anti-Islam film's mystery producer
Some time in the summer, a small theater in Los Angeles screened a movie to which hardly anyone came. It was a clunky film filled with scenes in a desert and in tents. The characters were cartoonish; the dialogue gauche. The actors who'd responded to a July 2011 casting call thought they were making an adventure film set 2,000 years ago called "Desert Warrior." That's how Backstage magazine and other acting publications described it. The American-made movie, it turns out, was hardly an innocent Arabian Desert action flick.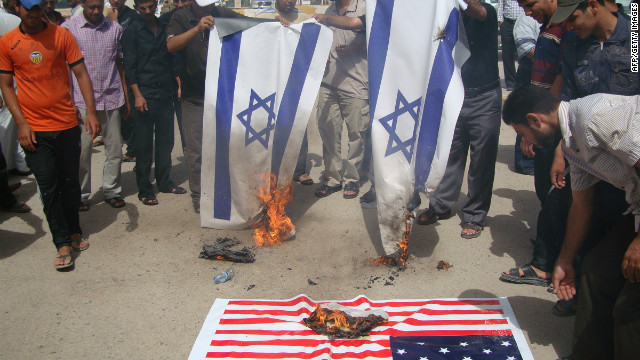 Iraqi protesters burn Israeli and U.S. flags during a protest Thursday. The U.S. ambassador to Libya, J. Christopher Stevens, and three others were killed during a protest outside the U.S. Consulate in Benghazi, Libya, on Tuesday.
CNN: Jewish groups mad about initial reports on anti-Islam film
Jewish groups are upset that the initial reporting about the anti-Islam movie known as "Innocence of Muslims" depicted the film as being financed by a group of Jewish donors. The groups say the reporting was irresponsible and even dangerous. "We are greatly concerned that this false notion that an Israeli Jew and 100 Jewish backers were behind the film now has legs and is gathering speed around the world," Abraham Foxman, national director of the Anti-Defamation League said Thursday. "In an age where conspiracy theories, especially ones of an anti-Semitic nature, explode on the Internet in a matter of minutes, it is crucial for those news organizations who initially reported on his identity to correct the record."
Belief on TV:
Enlightening Reads:
Religion News Service: The 'maverick' Egyptian-American Copt behind the anti-Muslim film
The man who circulated the trailer of an obscure anti-Islam film, promoted it on his website and posted it on social media was a little known Egyptian-American Coptic Christian activist who lives near Washington and proudly touts his ties to Quran-burner Terry Jones.
WJLA: Muslims for Life conduct blood drive with Red Cross to promote peace
Watching the protests in the Middle East, Muslim Americans here at home are hoping to counter acts of violence, with acts of kindness. In partnership with the American Red Cross, they organized a nationwide blood drive with nearly 400 donation sites across the country. They want to promote a message of peace. "We condemn this kind of violence today as we condemned the violence of 9/11 11 years ago," says Naseem Mahdi.
Religion News Service: Email prompts Mormon church to reaffirm that it's neutral on Mitt Romney
Mormon leaders say the church is not attempting to sway members to support Mitt Romney's presidential bid after an email surfaced suggesting to Mormon leaders in Nevada to register the faithful to vote and named a contact person who appears to support Romney.
New York Times: Howard Moody, Who Led a Historic Church, Dies at 91
The Rev. Howard R. Moody the longtime minister of the historic Judson Memorial Church, who hurled himself and his Greenwich Village congregation into roiling social issues, at one point helping women from around the nation get illegal abortions, died on Wednesday in Manhattan. He was 91.
Quote of the Day:
In that spirit, the Jewish Tradition teaches us that one of the most important duties we have during this period [the time before Rosh Hashanah] is the act of reconciliation. We're called to seek each other out and make amends for those moments when we may not have lived up to our values as well as we should.

At a time when our public discourse can too often seem harsh; when society too often focuses on what divides us instead of what unites us; I hope that Americans of all faiths can take this opportunity to reach out to those who are less fortunate; to be tolerant of our neighbors; and to recognize ourselves in one another. And as a nation, let us be mindful of those who are suffering, and renew the unbreakable bond we share with our friends and allies – including the State of Israel.
Remarks by President Obama in advance of Rosh Hashanah and Yom Kippur.
Opinion of the Day:
CNN: My Take: A deadly link between Islamic and anti-Islamic extremists
Stephen Prothero, Boston University religion scholar and author of The American Bible: How Our Words Unite, Divide, and Define a Nation, explains why both the people behind the controversial anti-Muslim film and the killers of innocents in Libya and Egypt are "possessed by the unholy spirit of 'blind certainty,' unacquainted with both the complexity and contradictions of life on Earth and the 'cloud of unknowing' that hovers over every major religion."
Join the conversation…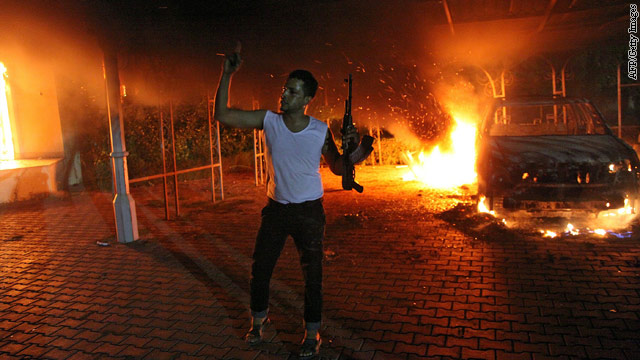 CNN: Ambassador's killing shines light on Muslim sensitivities around Prophet Mohammed
Violence over depictions of the Prophet Mohammed may mystify many non-Muslims, but it speaks to a central tenet of Islam: that the Prophet was a man, not God, and that portraying him threatens to lead to worshiping a human instead of Allah. "It's all rooted in the notion of idol worship," says Akbar Ahmed, who chairs the Islamic Studies department at American University. "In Islam, the notion of God versus any depiction of God or any sacred figure is very strong."