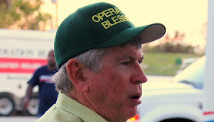 Editor's note: Bill Horan is president of Operation Blessing International.
By Bill Horan, Special to CNN
While Americans and the media convened, debated and celebrated in Tampa and Charlotte in recent weeks, thousands of Americans in southeastern Louisiana became homeless, finding themselves living without electricity, clean water or other basic necessities after Hurricane Isaac hit.
Mitt Romney and President Obama, along with the national media, have come and gone from the region. What's left behind is total devastation and a long road of rebuilding – again.
Yet this could be the end of the road for many families living there.
The newly upgraded levees in St. Bernard Parish, built after Katrina, worked and stopped flooding there and in New Orleans. But many residents here believe that these new levees caused all that extra water from the hurricane to funnel away from those protected areas and directly into Plaquemines Parish, which didn't flood like this during Hurricane Katrina.
Follow the CNN Belief Blog on Twitter
Regardless, much of Plaquemines Parish is now ruined. Every single building along the 18-mile levee in the parish has been flooded, either destroyed or severely damaged. There are boats and burial vaults strewn helter-skelter all over the road and on the sloped side of the levee. There is a rotten smell that covers the soggy land and seems to seep into your pores. The water treatment plant is also flooded, and there isn't any power
I recently went on a tour with the local fire chief and a district representative to the east bank of the Mississippi River in Plaquemines Parish. Many residents there are still out of work because of the BP oil spill in 2010. The effects of the spill are far from over: The oysters and shrimp have not come back, and many fishing families have suffered financial meltdown as a result. In fact, oil from the spill reportedly washed up again from the hurricane.
If there is such a thing as being under water twice at the same time, many residents of Plaquemines Parish are now experiencing it.
For more than a week, the relief group that I oversee, Operation Blessing International, has been in the impacted area, helping residents with basic needs. We spent more than two and a half years in New Orleans after Hurricane Katrina, so many people there recognize us.
CNN's Belief Blog: The faith angles behind the biggest stories
Now, we hope to be there for many days to come, helping residents who need assistance. We have received close to 700 requests from local homeowners to repair their severely damaged homes, a fraction of the 13,000 the state of Louisiana says were damaged by the hurricane. We are also coordinating volunteer efforts daily – more than 4,800 hours to date – to help with debris removal and repairs.
We were able to set up a full working kitchen in less than two hours and have served more than 21,000 hot meals to residents and first responders. We anticipated hundreds of people, but thousands have shown up.
It is very sad that, as a nation, we seem to have either diverted or turned our attention away from these sweet people in their time of greatest need. Americans have a great legacy of helping one another in times of disaster. People of faith embrace a God-given mandate requiring us to help the less fortunate.
Faith-based organizations like Operation Blessing International, driven by such beliefs, are often the first to arrive and the last to leave when disaster strikes. There are many more who would help if only they knew how hard Isaac hit those outside the new levees that protect New Orleans.
Helping could take several forms, from something quick and easy like donating money to an established charity working in the New Orleans area to gathering a group of friends and spending a few days volunteering with a charity on the ground, working to clear debris from homes and to start to repair the damage.
Sometimes, we need to give each other a nudge. I'm doing that now. Let's come together as we've done time and time again, to help our brothers and sisters in southeastern Louisiana.
The opinions expressed in this commentary are solely those of Bill Horan.