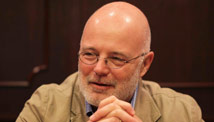 Editor's Note: Brian D. McLaren  is author of "Why Did Jesus, Moses, the Buddha, and Mohammed Cross the Road? Christian Identity in a Multi-Faith World" (Jericho Books/Hachette Book Group). 
By Brian McLaren, Special to CNN
I was raised as an evangelical Christian in America, and any discussion of Christian-Jewish-Muslim relations around the world must include the phenomenon of American Islamophobia, for which large sectors of evangelical Christianity in America serve as a greenhouse.
At a time when U.S. embassies are being attacked and when people are getting killed over an offensive, adolescent and puerile film targeting Islam - beyond pathetic in its tawdriness – we must begin to own up to the reality of evangelical Islamaphobia.
Many of my own relatives receive and forward pious-sounding and alarm-bell-ringing e-mails that trumpet (IN LOTS OF CAPITAL LETTERS WITH EXCLAMATION POINTS!) the evils of Islam, that call their fellow evangelicals and charismatics to prayer and "spiritual warfare" against those alleged evils, and that often - truth be told - contain lots of downright lies.