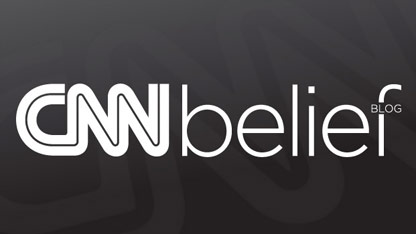 By Arielle Hawkins, CNN
Here's the Belief Blog's morning rundown of the top faith-angle stories from around the United States and around the world. Click the headlines for the full stories.
From the Blog: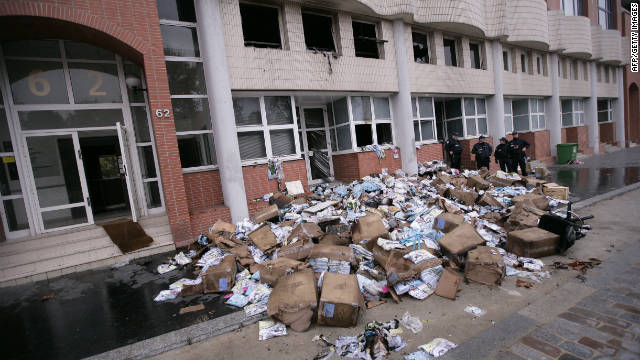 The offices of French satirical magazine Charlie Hebdo were set on fire in November 2011 when the magazine published a cover with a cartoon figure of the Prophet Mohammed saying "100 lashes if you're not dying of laughter."
CNN: Free speech or incitement? French mag runs cartoons of Prophet Mohammed
After a week of deadly, international protests against an anti-Islam film, a French satirical magazine is fueling the debate between freedom of expression and offensive provocation. The magazine Charlie Hebdo published cartoons featuring a figure resembling the Prophet Mohammed in an issue hitting newsstands Wednesday.
CNN: Newly revealed Coptic fragment has Jesus making reference to 'my wife'
A newly revealed, centuries-old papyrus fragment suggests that some early Christians might have believed Jesus was married. The fragment, written in Coptic, a language used by Egyptian Christians, says in part, "Jesus said to them, 'My wife ..." Harvard Divinity School Professor Karen King announced the findings of the 1 1/2- by 3-inch honey-colored fragment on Tuesday in Rome at the International Association for Coptic Studies.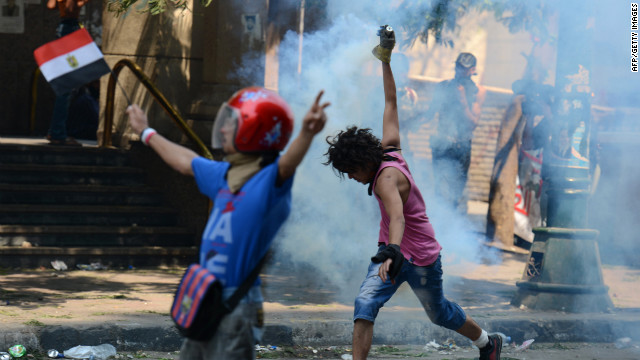 Police use tear gas on crowds protesting Thursday outside the U.S. Embassy in Cairo.
CNN: Egypt charges Coptic Christians linked to infamous video
Egyptian authorities have charged seven Coptic Christians living in the United States and a Florida pastor with insulting Islam and inciting sectarian strife for their alleged links to an online video that has enraged much of the Muslim world. Egypt's public prosecutor announced the charges Tuesday, the latest development in the deadly backlash against the low-budget, amateurish 14-minute movie trailer produced privately in the United States and posted on YouTube.
Tweet of the Day:
[tweet https://twitter.com/tabletmag/status/248174608845529088%5D
[tweet https://twitter.com/#!/rel0802/belief-blog-tweets%5D
Belief on TV:
Enlightening Reads:
Huffington Post: Romney's Israel-Palestine Comments Are Latest Chapter In Candidate's Struggle With Muslims
Recently surfaced remarks from Republican presidential nominee Mitt Romney declaring that Palestinians "have no interest whatsoever in establishing peace," have rankled members of the Muslim community, Arab Republicans and even officials within his campaign. "The comments are disappointing," a longtime conservative Muslim activist who advises the Romney campaign told The Huffington Post, in reference to a video from a May 2012 Romney fundraiser that was unearthed by Mother Jones on Tuesday. "One, because they're very inaccurate and are really just reinforcing mistaken beliefs about the conflict."
Religion News Service: Report says religion at heart of illegal ivory trade
Since the ban on international trade of ivory in 1989, the ivory black market has been on the rise, and a National Geographic investigation found that demand for religious art pieces carved out of the precious material has played a considerable role. "No matter where I find ivory, religion is close at hand," said investigative reporter Bryan Christy, whose article, "Ivory Worship," is included in the new edition of National Geographic magazine, released Friday (Sept. 14).
First Post Mumbai: The Ganesh Chaturthi – it was not always like this
He is not Mumbai's presiding deity; Mumbadevi from which the city region derives its name is. Lord Ganesh, who visits once a year, however, is more popular. One may have to search for Mumbadevi's temple but that is not the case with Lord Ganesh.
New York Times: Wanted: Jewish Ballplayers
Though Israel's national baseball team has many excellent pitchers, catchers, infielders and outfielders, the roster has a shortage of something that might be considered essential: Israelis. Only 3 of the squad's 28 players hail from Israel, the rest being Americans with professional baseball experience and Jewish roots, recruited to play for a homeland only a few have visited.
Quote of the Day:
I go back to a central theme of encouraging everybody to vote, to search their own heart. Because it's interesting, good people of faith can read the scripture and interpret it differently. I mean I have Democrats and Republicans in our church that love the Lord, that couldn't be any better people, but they just you know, different issues speak to them.
Televangelist Joel Osteen talks to CNN's Piers Morgan about the presidential race and encouraging his congregation to vote.
Join the conversation…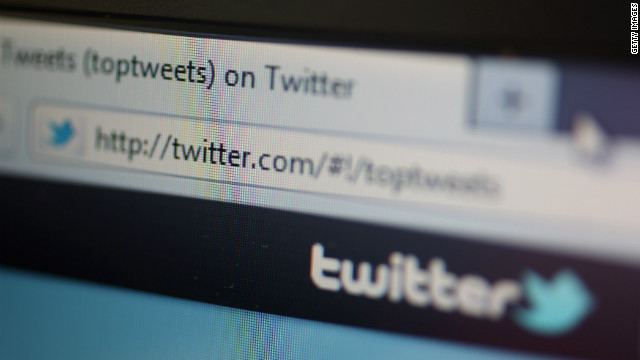 CNN: What really enrages Muslims? Twitter knows
What really enrages Muslims? Having a really good hair day - but no one knows because you wear a hijab. Not being able to say "Hi" to your friend Jack in a plane - or to call out for your nephew when he gets lost in an airport because his name is "Jihad." The tongue-in-cheek answers are part of an explosion of sharply satirical responses on Twitter to a Newsweek magazine cover showing Muslim men in turbans and keffiyahs, apparently rioting, under the banner all caps headline "MUSLIM RAGE." Thousands of Muslims have made fun of the magazine headline since Monday, when it published a long article by the Somali-born writer Ayaan Hirsi Ali, a former Muslim who describes herself as a "combatant in the clash of civilizations."